24 Hawkeyes to Watch – 2017-18 | Hawk Talk Monthly — June | Single Game Football Tickets | I-Club Events Page | Android App | Sign Up For Season Tickets | Apple App
Editor's Note: The University of Iowa Athletics Department, in conjunction with Coca-Cola, will produce exclusive video highlights of the top 10 Iowa football games over the past 20 seasons, as voted on by Hawkeye fans. Hawkeye fans will vote each week between two game options, with the winning game each week advancing as a top 10 moment. Beginning Aug. 13, the weekly countdown of the Top 10 games will begin, with Coca-Cola releasing 16 ounce cans across the Hawkeye State.  Fans will be able to view video highlights of each moment by scanning the Tigerhawk on the cans with the Hawkeye Sports App, via the new augmented reality feature coming to the Hawkeye Sports App later this summer. The release of the greatest moment of the past 20 years is scheduled for Monday, Oct. 8.
Fans can download the Hawkeye Sports App, free of charge, in the Apple App or Google Play stores.
 
Questions concerning the purchase of 2018 football tickets, including general public, University of Iowa faculty/staff and University of Iowa student season tickets by current students, should be directed to the University of Iowa Athletics Ticket Office. The office is open weekdays from 9 a.m. to 4 p.m. The office telephone number is 1-800-IA-HAWKS. Information is also available HERE.
 
 
By RICK BROWN
hawkeyesports.com
 
IOWA CITY, Iowa — There were 134 plays run from scrimmage at Kinnick Stadium the night of Nov. 4, 2017.
 
"There are plays that stick out in your mind, no matter who you are," University of Iowa quarterback Nate Stanley said.
 
Ask anyone who was there, when Iowa crushed No. 3 Ohio State, 55-24, and you'll get plenty of big-play opinions.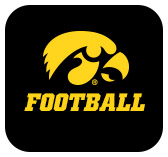 There was Amani Hooker's pick-six on the first play from scrimmage and Josh Jackson's acrobatic fourth-quarter interception. There was Stanley's 25-yard touchdown pass to Noah Fant late in the first half that gave the Hawkeyes a 24-17 lead they would never relinquish. And there was holder Colten Rastetter's 18-yard completion to long-snapper Tyler Kluver to the Ohio State 2-yard line on a fake field goal in the third quarter.
 
The next play doesn't look that impressive on paper. It was a 2-yard touchdown pass from Stanley to tight end T.J. Hockenson in the back of the end zone, giving Iowa an insurmountable three-touchdown lead.
 
But Stanley threw it with Ohio State's Sam Hubbard clinging to his left leg, and Jalyn Holmes zeroing in on him.
 
"I think that's the play that will stick in my mind for awhile," Stanley said. "I was happy for my teammates who did their jobs on that play, too, so I could do mine and give us that memory."
 
On Sept. 28, 2002, Fred Russell made a bunch of memorable plays in another Hawkeye victory. Russell had 35 carries for 142 yards and a touchdown as Iowa won at Penn State in overtime, 42-35.
 
"That game was full of emotions," Russell said. "Special teams, offense, defense, just playing on that legendary field against a legendary coach. But that was tough, because I did one of the first things you can't do. I fumbled at the goal line and those guys went on a streak after that."
 
Iowa was leading, 35-13, early in the fourth quarter when Jovon Johnson picked off a Zach Mills pass and returned it 32 yards to the Penn State 1.  After getting stopped for no gain on the first play, Russell fumbled on second down and Penn State's Jimmy Kennedy recovered.
 
After an exchange of punts, things got interesting. Penn State took possession with 8 minutes, 58 seconds remaining. Five plays later, Mills found Larry Johnson for a 36-yard touchdown pass.
 
The Hawkeyes punted after a five-play possession. Taking over with 4:10 left, Mills found Tony Johnson for a 44-yard scoring strike on the first play. A two-point conversion made it 35-28.
 
Iowa ran six more plays and punted. Penn State went 64 yards in five plays, tying the game on an 8-yard pass from Mills to Bryant Johnson with 1:29 to go. Overtime.
 
The Hawkeyes' only loss of the season had been at home to Iowa State, 36-31, when they squandered a 24-7 halftime lead. It looked like history might repeat itself.
 
But Iowa scored with the first possession of overtime, a 6-yard pass from quarterback Brad Banks to C.J. Jones and then the defense held. Mills, who passed for a school-record 399 yards, was pressured by Iowa's Jonathan Babineaux on the final play and threw an incompletion.
 
"We had already tasted adversity earlier in the season, blowing a lead against Iowa State," Russell said. "We wanted to make sure we kept fighting and not leave with that taste in our mouths like we had against our rivals."
 
Sixteen years later, Ferentz feels the victory at Beaver Stadium was a crucial moment in what turned into an 11-win season.
 
"A couple of weeks before (against Iowa State), we had the same kind of game, so this was a learning step," Ferentz said. "We showed we had gained ground from two weeks prior. That gave us confidence to go into a tough environment and do something good."
 
Ohio State quarterback J.T. Barrett entered Kinnick Stadium last season with a world of confidence. He had been intercepted just once in eight games. He had two impressive streaks intact: 16 straight completions and 190 attempts without an interception. Iowa picked him off four times, starting with Hooker's thievery on the first play of the game.
Stanley's confidence grew as the game progressed. He threw a career-best five touchdown passes — two to Fant, two to Hockenson, and another to Drake Kulick. Akrum Wadley ran for 118 yards. The offensive line allowed just one sack, giving Stanley plenty of time to complete 20-of-31 attempts for 226 yards. Eight different players, Kluver included, caught at least one pass.
 
Iowa's offense was a perfect mix of run and pass. The Hawkeyes had 243 yards on the ground and 244 through the air. The 55 points, from a team that was a three-touchdown underdog, were the most allowed by an Urban Meyer-coached Ohio State team.
 
In fact, it was also the most points Iowa has ever scored against the Buckeyes. The 31-point margin of victory was another new standard. Stanley joined Chuck Long as the only quarterbacks in Iowa history to throw at least five touchdown passes in a game. Long had a pair of six-touchdown games.
 
Jackson tied a school record with three interceptions and the Buckeyes rushed for just 163 yards. Iowa's defense held Ohio State 22 points below its season average entering the game.
 
As he thinks back to that game, Stanley fondly remembers the scene in the locker room afterward.
 
"You put in so much time with your teammates, and you sacrifice so much of your life to play this game that we love," Stanley said. "To be able to celebrate with your teammates, is special. And it's something I'll never forget."
 
| | |
| --- | --- |
| Week One Winner | 2005 Capital One Bowl |
| Week Two Winner | 2002 Minnesota |
| Week Three Winner | 2004 Wisconsin |
| Week Four Winner | 2003 Michigan |
| Week Five Winner | 2004 Outback Bowl |
| Week Six Winner | 2009 Michigan State |
| Week Seven Winner | 2015 Pittsburgh |
| Week Eight Winner | 2010 Orange Bowl |
Vote for Your Favorite Game
Vote for the game you would select as one of the top 10 Hawkeye football games over the past 20 years: