Hawkeye Fan Shop — A Black & Gold Store | 24 Hawkeyes to Watch 2017-18 | Hawk Talk Monthly — May 2018
IOWA CITY, Iowa — The National Iowa Varsity Club and the University of Iowa Athletics Department announced Thursday that Kineke Alexander, Jared DeVries, Chris Hatcher, Sarah Lynch, Alexis Maday, Jeff McGinness, and Bob Sanders have been named to the Iowa Athletics Hall of Fame class of 2018.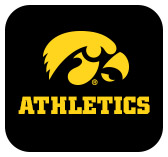 The 30th Hall of Fame class will be inducted into the Iowa Athletics Hall of Fame on Friday, Aug. 31, 2018 — the evening prior to the Iowa football team's season opener against Northern Illinois.
 
All Hawkeye athletes who have earned at least one varsity letter award at Iowa are eligible for the Iowa Athletics Hall of Fame. Athletes must have completed their eligibility 10 years, and coaches/administrators five years prior to their induction.
 
The UI Athletics Hall of Fame induction ceremony is Aug. 31 at 6:30 p.m. (CT) inside the Grand Coral Ballroom at the Coralville Marriott Hotel and Convention Center. A hors d'oeuvres and cocktail reception precedes the induction ceremony at 5:30 p.m. 
 
The induction ceremony and reception is open to the public. Tickets may be purchased for $20 by going online at hawkeyesports.com/HOFtickets. For more information please call the Iowa Varsity Club office at (319) 335-9438.
 
Student-Athletes
Kineke Alexander, Track & Field
Kineke Alexander won the NCAA Indoor Championships in the 400 meters in 2006, and was an eight-time All-American for the Hawkeye track and field team from 2005-08. The eight All-America honors are the most of any Hawkeye in school history. She was a five-time Big Ten champion, winning the outdoor 400 meters from 2006-08, and winning the indoor 200 meters in 2006-07. Alexander was named Big Ten Track Athlete of the Year in 2007, and Iowa Female Athlete of the Year in 2006 and 2007.
 
Jared DeVries, Football
Jared Devries was a consensus All-American in 1998 and was voted first-team All-Big Ten by league coaches and media. He recorded 260 career tackles from 1995-98, and holds Iowa records for tackles-for-loss in a season (22) and career (78), and career quarterback sacks (42). He was named Big Ten Linemen of the Year in 1997 and earned MVP honors at the 1995 Sun Bowl and 1996 Alamo Bowl.
 
Chris Hatcher, Baseball
Chris Hatcher was an All-American in 1989 and a first-team All-Big Ten honoree in 1989 and 1990. He was a member of Iowa's 1990 Big Ten championship team and led the Hawkeyes to the 1990 NCAA Regionals. Hatcher ranks in the school's all-time top 10 in triples (11) and home runs (37), and his .405 batting average in 1989 is the seventh-best single-season batting average in school history.
 
Sarah Lynch, Women's Soccer
Sarah Lynch was a three-time first-team All-Big Ten performer from 1999-2001. She was a freshman All-American in 1999, and earned All-Region honors from 1999-2001. Lynch scored a school-record 20 game-winning goals from 1999-2002, and she is Iowa's all-time leader in goals (46). She ranks third all-time in career assists (20) and shares the school record for career points (112).
 
Alexis Maday, Women's Gymnastics
Alexis Maday was a three-time All-American from 2002-04. She was a six-time Big Ten champion, winning the all-around in 2001, and earned first-team All-Big Ten honors from 2001-04. Maday was named Big Ten Freshman of the Year in 2001, and Big Ten Gymnast of the Year in 2004. She holds or shares school records in the all-around, uneven bars, and floor exercise.
 
Jeff McGinness, Wrestling
Jeff McGinness won the 126-pound NCAA Championship in 1995 and the 142-pound NCAA Championship in 1998. He earned All-America honors in 1994, 1995, and 1998, and won Big Ten titles in 1995 and 1998. In 1994, McGinness was named Big Ten Freshman of the Year, and in 1998, he was named Outstanding Wrestler of the Big Ten Championships and was Iowa's Big Ten Medal of Honor winner. He won 43 consecutive matches from 1994-96, and finished his sophomore season a perfect 30-0.
 
Bob Sanders, Football
Bob Sanders was a second-team All-American in 2003 and a first-team All-Big Ten safety from 2001-03. He recorded 348 career tackles from 2000-03, a mark that ranks 11th all-time in program history, and led the nation in forced fumbles (6) and the Big Ten in fumble recoveries (3) as a senior in 2003. Sanders recorded 25 tackles against Indiana in 2001, the fourth-highest single-game total in school history. He led Iowa to a Big Ten title in 2002, and wins at the 2001 Alamo Bowl and 2004 Outback Bowl.