Hawk Talk Monthly — June | Fight For Iowa | Photo Gallery
By JAMES ALLAN
hawkeyesports.com
IOWA CITY, Iowa — University of Iowa head soccer coach Dave DiIanni believes the Hawkeyes are poised to take another step forward in 2018 after qualifying for the Big Ten Tournament for the first time in three seasons.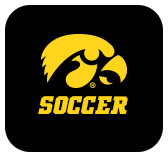 With 17 letterwinners and eight starters returning, the optimism comes because of the team's experience.
 
"We like where we are with our older kids," said DiIanni, who is in his fifth season as Iowa's head coach. "They made the commitment to stay all summer and commit to a year-round fitness program.
 
"We are more athletic than we have been across the board and with that increased fitness level, it has allowed us to have higher quality throughout a longer portion of training."
 
Iowa's junior class has logged significant playing time since 2016.  Iowa has four seniors in Morgan Kemerling, Jenna Kentgen, Karsen Rauch, and Rose Ripslinger. 
 
"Having that experience benefits us tremendously," said redshirt junior and team co-captain Kaleigh Haus. "We can't use that as an excuse anymore that we haven't been out there.  We have to use the experience we have to our advantage."
 
Iowa returns its top three goal- and point-scorers from 2017.  Junior Devin Burns led the team with nine goals and 23 points — the most goals by a Hawkeye since 2014.  Junior Olivia Fiegel scored six goals and Haus had five goals and 14 points.
 
"Devin and Kaleigh were some of our most committed players, not only with fitness, but they proved they could score last season," said DiIanni. "They spent time improving their craft inside the box and got better as goal-scorers. That will help us a great deal.
 
"Natalie Winters has taken on more of an offensive role and we have other players who are going to be better. We can't be one-dimensional like we were last year."
 
Iowa often relied on its defense to be competitive a season ago. The unit was compact and disciplined and that should continue with Kemerling anchoring the backline for a third straight season.  The Hawkeyes also have a trio battling in goal in junior Claire Graves, redshirt sophomore Cora Meyers, and freshman Monica Wilhelm.
 
Graves had a 1.21 goals-against average, 75 saves, and seven shutouts in 2017.
 
"This spring and in the early part of camp, we have shown we can press the line higher, we're more athletic, and we can turn people over and hunt the ball more," said DiIanni. "We have better wide play, and that's important. I haven't figured out what system we'll play, but we have more pieces."
 
Some of those pieces include the program's 12 newcomers.
 
"We have young pieces that will play early — Hailey Rydberg, Riley Whitaker, Sara Wheaton, Olivia Hellweg," said DiIanni. "But because we have players with so much experience, we have to rely on those players and they have to be our leaders from the beginning."
 
Iowa clinched the No. 8 seed in the 2017 Big Ten Tournament during the last game of the regular season with a shutout victory at Illinois.  Moving forward, the Hawkeyes want to solidify a postseason spot earlier, which would put them in position to play further into the month of November.
 
"We made a jump last year in terms of Big Ten standings," said DiIanni. "We know that history says if your in the top eight of the Big Ten and you make the conference postseason, that it puts you in a very good spot for an NCAA bid.
"We know that our conference and nonconference schedule will be filled with some difficult challenges and it will take our best effort everyday to give us a chance to move the needle from last year in our program."
 
"We don't want to just be the eight seed and barely make it in the tournament," said Haus. "We want to secure our spot and not rely on another team for us to get in.  We have the goal of making the NCAA Tournament, but we know we need to win games to make that happen."
 
The Hawkeyes play at Illinois State in an exhibition Sunday in Normal, Illinois.  Iowa's regular season begins Aug. 17, hosting Missouri at the Iowa Soccer Complex at 7 p.m. (CT).