Hawkeye Fan Shop — A Black & Gold Store | 2018 Football Fall Camp Central | I-Club Events Page | Single-Game Football Tickets

Editor's Note: The following first appeared in the University of Iowa's Hawk Talk Daily, an e-newsletter that offers a daily look at the Iowa Hawkeyes, delivered free each morning to thousands of fans of the Hawkeyes worldwide. To receive daily news from the Iowa Hawkeyes, sign up HERE.
By JAMES ALLAN
hawkeyesports.com
IOWA CITY, Iowa — Don Clemons saw it coming long before Jared DeVries.
 
DeVries was wrapping up a 12-year playing career in the National Football League when Clemons, the Detroit Lions' assistant coach, predicted DeVries' post-playing plans.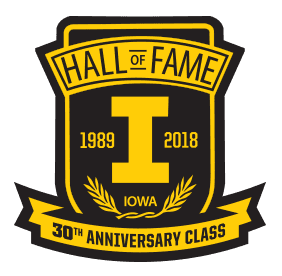 "Don said, 'Jared, I know you're going to be a high school coach,'" said DeVries. "I was like, 'No way.' But after the game of football is taken from you, you want to give back and see other young men have the same opportunity you did.  I think that is what inspired me to get into coaching."
 
DeVries' NFL career ended in 2010. The following year he joined the Clear Lake (Iowa) High School coaching staff as a volunteer assistant.  Four years later, he took over as head coach.
 
The former collegiate and professional defensive lineman draws from his playing days under legendary coaches — Ed Thomas of Aplington-Parkersburg (Iowa) High School and Hayden Fry at the University of Iowa. 
 
"I take all the lessons they taught me and it molded me into my style and personality," said DeVries. "Having those great experiences and lessons from great people, you have to have your own flair and style, combined with all the great things they taught you."
 
There has been a little more reflecting heading into his fourth season as Clear Lake's head coach after learning of his inclusion in the 2018 National Varsity Club Athletics Hall of Fame.
 
"You don't ever think of yourself as a Hall of Famer," said DeVries. "It takes a lot to be selected with all the other special athletes. It is an honor and it makes you reminisce about your teammates and experience at the university. It has been awesome."
 
DeVries will be one of seven inductees into Iowa's 30th Hall of Fame class Aug. 31 at the Coralville Marriott Hotel and Convention Center.  Tickets to the event, which is open to the public, can be purchased at hawkeyesports.com/HOFtickets.
 
DeVries grew up a Hawkeye. He and his family listened to Iowa football games in combines and tractors in the fields of central Iowa.  When Fry offered DeVries a scholarship, it didn't take much recruitment. 
 
"That was a childhood dream of mine," said DeVries. "When I had the chance, I didn't need to take visits elsewhere because that was the dream of a young boy in Aplington, Iowa. I was honored by the offer to attend. I took that opportunity and ran with it and I tried to make the most of my time and experience."
 
DeVries expected to don a redshirt in his first season in Iowa City. Instead, he was thrown to the wolves.
 
"I was fortunate (to get on the field as a freshman), but it was the tale of two songs," said DeVries. "A good friend of mine, Chris Webb, was in front of me and unfortunately, he didn't get to play his senior season.  Otherwise, I would have watched and learned from him for the year.
 
"I would have loved to play alongside him longer than I did. It threw me into the fire and I am not sure the coaches wanted or expected me to be in there that soon, but we tried to make the most of it every down, play, game, and season."
 
Iowa won 27 games from 1995-98, which included two bowl victories. He was named the Jimmy Rogers, Jr., Most Valuable Lineman in the 1995 Sun Bowl win over Washington and was the defensive MVP in Iowa's 27-0 victory over Texas Tech in the 1996 Alamo Bowl.
 
"There are a lot of games that stand out; the bowl games are memorable, capping off great seasons," he said. "You would think you remember the wins most, but I remember going into the Big House and having Michigan down (in 1997), the year they won a national championship.
 
"I remember that game like it was yesterday, the downs and distances, time in the game, and the opportunities we didn't capitalize."
 
Iowa went to Ann Arbor in 1997 with a 4-1 record. The Hawkeyes led the fifth-ranked team in the country, 21-7, at the half after Tim Dwight returned a punt for a touchdown, but Michigan rallied to claim a 28-24 victory.  
 
During his four-year career, DeVries was a three-time first-team All-Big Ten selection and he was the Big Ten Lineman of the Year as a junior. He pondered making the jump to the NFL following the 1997 season, but he elected to return to school for his senior season.
 
"I had goals I hadn't accomplished yet, both individually and as a team," said DeVries. "I wanted to get my degree. That was important to my family and me. We thought the benefits of returning and playing at the University of Iowa all four years outweighed going pro."
 
DeVries had a dominant senior season, racking up 64 tackles, 19 tackles for loss, and 10 sacks en route to consensus All-America honors.  The All-America distinction is notable considering Iowa finished the 1998 season with a 3-8 record.
 
"We would have loved to win more games," said DeVries. "As an individual, you have to go out and compete whether the score or wins and losses are there. My game spoke for itself even though we didn't win as many games. The preparation didn't differ whether we were 3-8 or 8-3."
 
DeVries finished his career with 260 tackles, which ranks 30th all-time in school history. He holds school records for tackles for loss in a season (22) and career (78) and career quarterback sacks (42).
 
"I wasn't the biggest guy, so I relied on quickness," said DeVries. "Playing alongside other great players like Jon LaFluer and Aaron Klein makes your job easier.  It was a lot of fun and sometimes things work out for the best."
 
DeVries' final season corresponded with the end of an era.  Fry retired from coaching following the 1998 season.
 
"It was special to play for Hayden and be part of his final season," said DeVries. "He meant so much to the university, state of Iowa, and game of football. I was blessed to be able to play for him and his staff. They were like our parents away from our parents and I was fortunate to have the memories and lessons they taught us."
 
The Hall of Fame nod comes five years after DeVries was named to the America Needs Farmers Wall of Honor. 
 
"(Playing at Iowa) was a remarkable chapter," he said. "It couldn't have a better storybook ending. It is an honor to be in such a great class and in such a great hall of fame."
 
DeVries and his wife, Jamie, have two sons, Jaylen and Easton.