Hawkeye Fan Shop — A Black & Gold Store | Hawk Talk Monthly — June | Single Game Football Tickets | Fall Camp Central
Editor's Note: The following first appeared in the University of Iowa's Hawk Talk Daily, an e-newsletter that offers a daily look at the Iowa Hawkeyes, delivered free each morning to thousands of fans of the Hawkeyes worldwide. To receive daily news from the Iowa Hawkeyes, sign up HERE.
By HANNAH OSSMAN
hawkeyesports.com
IOWA CITY, Iowa — For the fourth season, the sidelines at Kinnick Stadium will feature two times the Paulsen as Landan and Levi begin their junior season with the University of Iowa football team.
 
Not only do the Paulsen's look alike, they also sound and act similar with infectious enthusiasm and personality, so much so that offensive line coach Tim Polasek has a difficult time keeping the two straight.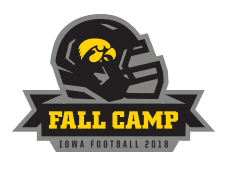 "Every time I turn around to coach one of them, I'll actually be thinking about Levi but trying to coach Landan," Polasek said. "Because they are so similar, I'll be looking at the wrong one. You learn that when you're dealing with one of them, you're processing both at the same time."
 
"It's interesting because they're similar guys, but that makes it a challenge, too. You would like to hope that one is a little bit different than the other, but they are similar. They both have big hearts, and they want to be great Hawkeyes."
 
Polasek emphasized the best part about getting the brothers on the field, their numbers are different.
 
"Once we're on the field, it's easy because one is wearing 66, and one is wearing 68. I like coaching them when they're in their uniforms better than when they're not."
 
It is clear that the brothers from Moville, Iowa, share a passion for their teammates and what it means to be a part of the Iowa football tradition.
 
"Once you get here, you have 105 other brothers." Landan said. "Everybody's worried about getting homesick. As a football player at the University of Iowa, you don't have time to get homesick. For me, I have my brother here, so that makes it better. Most guys don't have that."
 
The pair try to include their teammates in on their fun and positivity. They describe it as a part of the Hawkeye culture and are simply adding their personalities into the mix.
 
"We talk to everybody," Landon said. "We try to make connections with everybody, no matter who it is whether they're from Texas, East Coast, or West Coast. Our program is special in that way.
 
"There are not any cliques. There are friend groups, but everybody gets along. Everybody is respectful, can joke around, and nobody has any hurt feelings."
 
"They are unbelievable teammates," Polasek said. "These guys would give their shirts off their backs for anybody on this football team."
 
Similarities between the two continue as they share the same passion for crafting themselves into the most athletic linemen they can be.
 
"They're ultra-competitors, true competitors," Polasek said. "They don't need me to motivate them every day. They are internally motivated, and they're talented from the standpoint of being physical in the run game. They both would tell you that they are trying to improve in pass-play all the time, but they're getting better. For junior guys, they continue to progress, move forward, and they never take a day off."
 
The twins credit their attitude and effort to the way head coach Kirk Ferentz runs the Iowa football program. They are held accountable for their actions and what they put into their experience as a Hawkeye.
 
"The way we do things here is what every high schooler needs," Landan said. "It's all accountability. There are no excuses. You have to be detail-oriented. You have to be improvement-driven. You have to be getting better and you have to be doing the right things. You have to make your bed in the morning and the coaches tell us that stuff.
 
"It's cool because it teaches you a lot of stuff that we won't have to learn later on in life. Coach Ferentz teaches us a lot about life lessons. He talks about budgeting our money. He talks to us about budgeting our time. They are life lessons that you won't have to catch up on later on in life."
 
Iowa opens the 2018 season Sept. 1, hosting Northern Illinois at 2:30 p.m. (CT) inside Kinnick Stadium. Tickets are available HERE.