Hawkeye Fan Shop — A Black & Gold Store | Hawk Talk Monthly — June | Fall Camp Central | Single Game Football Tickets | Photo Gallery — Practice No. 11
By SHANE STURTZ
hawkeyesports.com
Geno Stone is a sophomore defensive back for the University of Iowa football team.  The New Castle, Pennsylvania, native made 17 tackles and had one interception as a true freshman in 2017.
What was your journey to the University of Iowa like?
 
"Basically, Iowa came in late. It was one of the last weekends in recruiting and coach (Phil) Parker heard from a coach from Kentucky. The Kentucky coach told him about me. They reached out to me and got in contact. At first, I didn't even know where Iowa was or anything about it, to be honest. My mom and coach sat down with me for three straight days, telling me to come for a visit.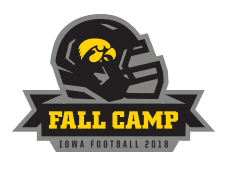 "I was telling them no. I was telling coach Parker no. I was telling coach (Kirk) Ferentz I didn't want to. It was one night after my game, I told them I would come and visit. Right when I first got here it was unbelievable. It was weird to me at first because everyone was so nice and I wasn't used to that.
 
"Everyone had open arms and they barely knew me. It was cool to see that. When I saw the facility and met the coaches and really got to talk them, I felt like this was the place for me. I could trust the coaches a lot. The whole facility blew me away. The city blew me away. It's like my city back home. It's smaller and not too big. I felt like it was the best place for me. At first, I was coming here for business and I knew it was one of the best business schools in the country so that was one of the real reasons I came here, too."
 
What are your personal goals and team goals for this year?
 
"I want to get better and be more consistent this year. I want to increase my role on the team. It could be special teams or defense — whatever they need me to do.  I want to help the younger guys get ahead. As a team, we want to get better each day, each game. Do our daily disciplines every day to achieve our goals and that's a Big Ten championship."
 
Could you talk about the leadership of Phil Parker and what he has done for you?
 
"Coach Parker… he's a great guy. He's the reason why I came here because he came down and sat down with me and mom in my house. When he first came in, I knew I could trust him because he was like my high school coach. He was straight and he was real disciplined. I need that in my life. I don't want a coach that is going to let me slack off whenever I'm not doing well. He always stays on me, even when I do something right, he tells me a little more that I can do. I appreciate him for that and I love coach Parker. He's a big role model for me right now."
 
How's the offseason and fall practices been?
 
"The offseason was great. I gained a little weight, but I slimmed down a little bit. It was a great offseason, I got faster, stronger. Fall camp is going well. We are working hard and we're trying to get the younger guys to get ahead with us. They are doing well. Julius (Brents) — he's the one that's most ahead. The corner spot is not easy to learn, but he's doing a good job. He one of the freshman that really sticks out to me right now."
 
What was your favorite moment from last year?
"The Ohio State game, even though I didn't play much. It was a great performance from the entire team. That feeling after the game was great. You always want to have that feeling at the end of the day. We felt like we did all of the little things we had to do that game to win. It paid off."
 
Who is the funniest teammate/coach?
 
"I'll give it to OJ (Michael Ojemudia). He goofy."
 
Who is your rolemodel?
 
"Amani Hooker. He's the one that influenced me to come here. He was my host and he has been like a big brother to me ever since I've been here."
 
Who do you model your game after or like to compare yourself to?
 
"I try to style my game like Tyrann Mathieu and be relentless like Brian Dawkins. I don't know who I could say my game is after because I'm not a speedster, but I can hit and have good ball instincts."
 
What is something that most people wouldn't know about you?
 
"I'm a good golfer. I haven't played here yet, but I golf at home a lot."
 
What's your favorite thing to do in your free time?
 
"Play video games — Fortnite, Madden, NBA 2K, anything like that. "
 
Favorite TV show?
 
"I watch That 70's show all the time. I started watching Luke Cage, I like that. 13 Reasons Why. Scandal, too. I got real into that."
 
Favorite sport outside of football?
 
"To watch – basketball.  My best sport growing up was baseball, so it's between baseball and basketball to play."
 
Favorite teams?
 
"Basketball I don't have a favorite team, I just like LeBron James. Baseball, I'm a Yankees fan. Football I have to go with the Steelers. That's my hometown."