Hawkeye Fan Shop — A Black & Gold Store | 24 Hawkeyes to Watch 2018-19 | Hawk Talk Monthly — June | LUV Invitational
THIS WEEKEND
Iowa kicks off the 2018 season this weekend at the LUV Invitational. The Hawkeyes face Southern Methodist University on Saturday at noon (CT) in Nashville, Tennessee. The Hawkeyes continue the tournament with a match against Lipscomb later that day and conclude weekend action against Belmont on Aug. 26 at 3 p.m.
FOLLOW ALONG
The match against Belmont will be live streamed on the Ohio Valley Conference Digital Network (OVC). A link is available on the team's schedule page on hawkeyesports.com.
Live stats for each contest can be found on the volleyball schedule page at hawkeyesports.com. 
FOLLOW THE HAWKEYES
For an inside look at the Iowa Volleyball program and access to exclusive coverage, "like" University of Iowa Volleyball on Facebook and follow @iowaVolleyball on Twitter and Instagram.
LOOKING BACK ON 2017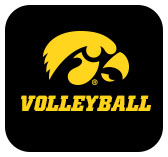 The Hawkeyes concluded the 2017 season with an 18-15 overall record and a 7-13 mark in Big Ten play. Iowa's 18 wins are the second most for the program since 1994. The Hawkeyes had 19 wins in 2016 and 24 victories in 1994.
The 2017 season marked Iowa's second winning season under head coach Bond Shymansky. Iowa finished the 2016 season 19-13 overall. 
2016 and 2017 mark the first back-to-back winning seasons since Iowa had five straight winnings seasons from 1986-90.
LOUIS NAMED PRESEASON ALL-BIG TEN
Senior Taylor Louis became the first Hawkeye since 2001 to be named to the Preseason All-Big Ten team on August 14. Sara Meyermann was the previous preseason All-Big Ten honoree.
A transfer from Marquette, Louis was named to the AVCA All-East Coast Region Team, the All-BIG EAST first team, and was selected as an AVCA honorable mention All-American before transferring to Iowa in 2017.
LOUIS RETURNS AS NCAA KILL LEADER
Senior Taylor Louis enters her senior season as the returning NCAA kill leader with 1,534 kills. 
Louis finished 2017 with a team-high 386 kills.
SCOUTING LIPSCOMB
Lipscomb concluded the 2017 season with a 16-13 overall record and was 9-7 in conference.
Lipscomb returns junior Maddie Phillips, the 2016 ASUM All-Freshman honoree. Phillips played in all 29 matches in 2017 with 243 kills and led the team with a .273 kill percentage.
SCOUTING BELMONT
Belmont finished the 2017 season with a 14-15 record and was 9-7 in conference
The Bruins return senior Alexa Nichols, who ranked second on the team with 245 kills last season.
SCOUTING SMU
SMU capped off 2017 with a 21-11 record and a spot in the National Invitational Volleyball Championship.
Junior Kendall Patterson led the team with 1,216 assists and was an All-American Athletic Conference honoree.
ATTENDANCE RECORD
The Hawkeyes crushed the single-match attendance record for the second consecutive year on October 7, 2017, with 4,729 fans packing Carver-Hawkeye Arena. 
The Hawkeyes have set 13 top-20 attendance marks since head coach Bond Shymansky took the helm in 2014.
STREAKING AHEAD
Iowa finished the regular season with an 18-15 overall record and a 7-13 mark in Big Ten play. 2017 marks Iowa's second straight winning season after going 19-13 in 2016.
The last time Iowa had consecutive winning seasons was from 1986-90 when Iowa had five straight winning seasons.
BACK-TO-BACK
The Hawkeyes' schedule features 11 teams that reached the 2017 NCAA Tournament.
The nonconference schedule includes three teams that competed at the 2017 NCAA Tournament, including Iowa State, Colorado, and Washington
Iowa will play all eight Big Ten NCAA Tournament teams from a year ago.  Those teams combined to go 206-64 in 2017.
Iowa faces nine teams currently ranked on the American Volleyball Coaches Association (AVCA) Preseason poll – Nebraska (2), Minnesota (4), Penn State (6), Wisconsin (9), Illinois (12), Colorado (15), Iowa State (21), Michigan State (22), and Purdue (23).
TRUE MENTAL TOUGHNESS
The Hawkeyes will continue their True Mental Toughness mantra for the 2018 season. Bond Shymansky's squad defines true mental toughness as having a great attitude, treating others really, really well, being unconditionally grateful regardless of your circumstances, and giving your very, very best. 
OUTSIDE HITTERS
Meghan Buzzerio appeared in 21 matches with 72 digs, 54 kills, and seven blocks as a redshirt sophomore in 2017. In Big Ten play, Buzzerio had 11 kills, 22 digs, and four assists. She amassed a personal best 15 digs against Coastal Carolina on Sept. 1, 2017.
Griere Hughes transferred to Iowa after one season at Arizona State. Hughes, a native of Fishers, Indiana, recorded 325 kills with a 3.22 kills per set ratio in 2017. She also recorded 80 digs and 30 total blocks.
Taylor Louis enters her senior season as the nation's returning kills leader with 1,534. In 2017, she played in all 33 matches with 23 double-digit kills matches and 12 matches with a kill percentage of above .300. Louis was named a preseason All-Big Ten honoree – Iowa's first since 2001.
Cali Hoye returns for her junior season after tallying 29 kills, 11 digs, and four blocks last season. She also set a new career high with seven kills against Wright State.
DEFENSIVE SPECIALISTS
Molly Kelly returns to Iowa for her senior season. Kelly appeared in 32 matches with 45 assists, 15 aces, and 189 digs in 2017. Kelly has appeared in 97 matches in her Hawkeye career.
Freshman Maddie Hine is a native of Noblesville, Indiana. Hine was a three-time team captain and team MVP during her senior season. She holds the school record for most assists in a season with 1,032. She helped her team finish fifth at the regional championships in 2017 and guided the team to their first sectional in 15 years.
Halle Johnston starts her sophomore season after playing in 19 matches in 2017. Johnston tallied 76 digs, nine aces, and nine assists. She registered a career-high three aces against Princeton on Sept. 16.
Junior Emily Bushman appeared in 11 matches in 2017. Bushman recorded 12 digs and one kill last season.
Freshman Maddie Slagle comes down the road to Iowa City after playing at Cedar Rapids Jefferson. Slagle was a two-time first team All-Metro honoree and team captain during her senior year. She holds the school record for career kills and tallied over 1,000 kills and 1,000 digs during her career.
MIDDLE BLOCKERS
Freshman Amiya Jones played four years at Tindley in Indianapolis, Indiana, where she was a three-time All-City honoree and All-State during her junior season. Jones qualified for the USA volleyball national team following her junior season.
Freshman Sarah Wing played four years at Marian High School in Blair, Nebraska, where she was second team All-State and All-Metro her junior season. In addition, Wing helped Marian to a 2015 state championship and a third place finish in 2016.
Freshman Hannah Clayton joins the Hawkeye squad from Bloomington, Illinois. Clayton was named All-Conference her junior year and team captain during her senior season. Clayton was a 2015 Heart of Illinois conference champion, a runner up in 2016, and bronze medalist in 2017.
Reghan Coyle enters her senior season after appearing in 33 matches with 182 kills, 58 blocks, and 38 digs in 2017. 
SETTERS
Brie Orr begins her sophomore season after playing in all 33 matches last season. Orr had three matches with 50 or more assists and led the team with 1,201 assists. She also chipped in 99 kills, 65 blocks, and 10 aces.
Freshman Courtney Buzzerio comes to Iowa from Chino Hills, California, where she was a first team All-Trinity league her junior year. She was a 2016 Junior National Open bronze medalist. Her older sister, Meghan, is a redshirt junior on the team.
THE PREMIER CONFERENCE
The Big Ten Conference has had an NCAA champion in nine of the last 14 years. Eight teams – Penn State, Michigan, Nebraska, Illinois, Wisconsin, Minnesota, Purdue, and Michigan State – appeared in the 2017 NCAA Tournament. 
UP NEXT
The Hawkeyes head to Seattle, Washington, for the Pac-12/ Big Ten challenge, hosted by Washington. Iowa's first match is against Washington on Aug. 31at 8 p.m. (CT). The team caps off the tournament against Colorado on Sept. 1 at 5 p.m.