24 Hawkeyes to Watch 2018-19 | Hawk Talk Monthly — June | Single Game Football Tickets | I-Club Events Page | Apple App | Android App | Sign Up For Season Tickets
Editor's Note: To view exclusive video highlights of this Fight for Iowa Coca-Cola moment, purchase a University of Iowa Hawkeye 16 ounce Coca-Cola can for sale throughout Eastern Iowa, download the Hawkeye Sports App, and select the Xtream HawkVision feature throughout the countdown.
By RICK BROWN
hawkeyesports.com
 
IOWA CITY, Iowa — Ken O'Keefe is on his second tour of duty as an assistant football coach at the University of Iowa.
 
Now quarterbacks coach, O'Keefe was the Hawkeyes' offensive coordinator from 1999-2011. It is often a thankless job, one where you work under a microscope.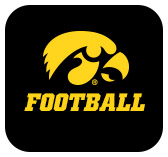 "Offensive coordinators tend to be under fire all the time," Iowa head coach Kirk Ferentz said. "And they are so underrated."
 
Ferentz circles back to the early years of his 20 seasons as the Hawkeyes' head coach to give O'Keefe his just reward.
 
Kyle McCann was Iowa's starting quarterback in 2001. Brad Banks was a one-year starter in 2002. Nathan Chandler, another one-year starter, followed in 2003. And then Drew Tate was next man in, in 2004.
 
"To me, that defines Ken O'Keefe's contributions," Ferentz said. "We had four different quarterbacks in those four years and we had good success on the field. To me, it's easier when you have a marquee player and you have him for three or four years. Those guys pull you along, but when you're doing it the other way, it's interesting."
 
Chandler had big shoes to fill. Banks went from unknown to Heisman Trophy runner-up in 2002. Banks was also The Associated Press National Player of the Year, won the Davey O'Brien Award as the nation's top quarterback, and was Big Ten Offensive Player of the Year.
 
Chandler would quarterback the Hawkeyes to a 10-3 record, including a victory over Florida in the Outback Bowl, and a No. 8 ranking in the final Associated Press poll.
One of Chandler's best games came in a 30-27 comeback victory over No. 9 Michigan on Oct. 4, 2003.
 
"That one, and the bowl game, were probably as good as he played," Ferentz said. "He wasn't the most talented quarterback we've ever had. Not the fastest, not the best passer, all of that. But he led a team to a top 10 ranking and did a great job as a one-year player. He's another great story."
 
And Michigan was another of the great victories of the past 20 seasons under Ferentz.
 
The Wolverines took the air out of Kinnick Stadium, where Iowa had won 17 of its previous 18 games, by jumping out to a 14-0 lead 12 minutes into the game. But Chandler, who was overthrowing receivers, caught his second wind.
 
He got the Hawkeyes on the board when he dodged a defender and scored on a 6-yard run late in the first quarter. He also threw touchdown passes of six yards to Calvin Davis with 19 seconds remaining in the first half and a 31-yard strike to Ramon Ochoa with 5:13 remaining in the game. Michigan had not allowed a touchdown pass all season coming to Kinnick.
 
Ochoa bobbled the ball as he scored. Officials conferred and ruled it a catch. Had instant replay been in use then, it might have been a different outcome.
 
"Oh, it was a catch," Ferentz said, laughing. "Oh, yeah."
 
Would replay have overturned it?
 
"You never know," Ferentz said. "But I'll flip that one around. Helverson was in against Michigan (in 1985)."
 
Ferentz was in his fifth season as Iowa's offensive line coach under Hayden Fry when No. 1 Iowa hosted No. 2 Michigan on Oct. 19, 1985. Scott Helverson had an 18-yard  touchdown catch ruled out-of-bounds in the second quarter. Replays showed it should have been a touchdown. Iowa won the game, 12-10, when Rob Houghtlin made his fourth field goal of the game, from 29 yards, on the final play.
 
Chandler completed 17-of-34 passes for 195 yards against the Wolverines, with one interception to go with those two touchdowns. Ochoa also had a 43-yard punt return that set up the Chandler-Davis touchdown pass. Ochoa was playing with a stress fracture in his leg.
 
 "You would never describe him as a fast, speedy guy," Ferentz said. "Generally, shin injuries last an entire season. He defied physics the way he played that year. He just made plays that, on paper, you would say this guy can't make. But he did. A lot of it was his heart and enthusiasm, and he surfaced at the right time for us."
 
There was another play that Ferentz remembers fondly.
 
On the second play of a second-quarter drive, Michigan quarterback John Navarre hooked up with Jason Avant for a 71-yard completion to the Iowa 9.
 
"Bob Sanders made that great hustle play," Ferentz said. "He came off the far hash. They ended up getting a field goal as opposed to touchdown had Bob not made that play."
 
After a run for no gain and two incompletions, Garrett Rivas kicked a 26-yard field goal. Instead of 24-10, Michigan's lead was 20-10.
 
Ochoa's 31-yard fourth-quarter touchdown reception gave Iowa a 30-20 advantage with more than five minutes remaining.
 
Seven plays later, Navarre found Braylon Edwards for a 41-yard touchdown.
 
"They were in an illegal formation," Ferentz said. "We told the official on the sideline, "Hey, he's covered up," and they still let it go. The things you remember."
 
In the end, Chandler, Ochoa, three Nate Kaeding field goals and stellar defense the last three quarters combined to get the job done.
 
The hustle play by Sanders, who was making his first start in five games because of an injury, was the difference between winning and losing.
 
 "A four-point differential there," Ferentz said. "And in that game, that was big."