Hawkeye Fan Shop — A Black & Gold Store | 24 Hawkeyes to Watch 2018-19
By JACK ROSSI
hawkeyesports.com
IOWA CITY, Iowa — This weekend the University of Iowa volleyball team continues its mission of True Mental Toughness with a season-opening tournament in Nashville, Tennessee.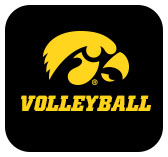 The Hawkeyes open the 2018 season at the LUV Invitational. Iowa will play three matches — two Saturday against SMU and Lipscomb and a Sunday finale against Belmont.
 
The tournament gives Hawkeye fans and student-athletes the best look at where the team is following three weeks of preseason practice.
 
"The first game of the year is kind of a deciding moment to set the stage for the rest of the season," senior Reghan Coyle said. "The first tournament is always a good one to see where we are at and what we need to work on the rest of the season."
 
"It's always fun," said Iowa head coach Bond Shymansky. "There is always excitement and energy starting up a new season. This is season No. 20 for me, collegiately. I haven't lost that excitement and those butterflies."
 
The coaches are treating the first road tournament like an extension of the preseason as the team continues to build chemistry and find their uniqueness.
 
"It's nice for us all to be together, eat together, watch film together, and compete together," Shymansky said. "We do all these things that are a part of the preseason, but you are doing it during the true moment of competition."
 
Just like the preseason, the focus of the weekend will be fundamentals.
 
"Some of the most important concepts we focus on are great team chemistry and communication," Shymansky said. "Are we willing to work hard in between the points and not just during the point?"
 
While Iowa has its starting lineup set for Saturday, it has been made it clear that it is fluid.
 
"We have established our starters, but I keep assuring our team that things will constantly be moving and evolving," Shymansky said. "Everybody needs to be malleable and dialed in to be ready to contribute."
 
That gives opportunities for Iowa's seven newcomers to contribute immediately.
 
"We have a lot of new faces and I think getting their mentality right and getting rid of any pregame jitters," Coyle said. "They are taking everything with an open mind. It's a lot as a freshman to start right away. It's a lot to learn and high expectations, but I think they are taking on their role well and I am excited to see how they grow and what they can bring throughout the season."
 
This weekend will be filled with highs, but there are expected to be low moments and that is what makes Iowa's mission so important.
 
"We want to put our true mental toughness to test and ultimately win," Shymansky said. "Their mission is just starting to gel."
 
Iowa opens the season against SMU on Saturday at noon (CT) followed by a match against Lipscomb at 6:30 p.m. The Hawkeyes conclude the LUV Invitational on Sunday against Belmont at 3 p.m.