24 Hawkeyes to Watch 2018-19 | Single Game Football Tickets | I-Club Events Page | 2018 Football Fall Camp Central
By JAMES ALLAN
hawkeyesports.com
IOWA CITY, Iowa — Michael Ojemudia sees it. 
 
So does University of Iowa defensive coordinator Phil Parker.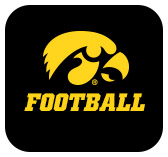 Sophomore Matt Hankins is walking around the Stew and LeNore Hansen Football Peformance Center with a swagger and a different level of confidence leading into the 2018 season. 
 
Hankins, a true sophomore from Lewisville, Texas, is listed as a starting defensive back, a position he earned last November in a game against Purdue inside Kinnick Stadium.
 
Iowa was searching for an answer early in the second half when the Boilermakers were testing each cornerback opposite All-American Josh Jackson.  Hankins ended up being the answer.
 
"(Coach Parker) had trust in me, that's why he threw me in there," said Hankins, who made three tackles in his first extended playing time.
 
Hankins saw action in 12 of Iowa's 13 games in 2017, where he finished with 21 tackles (10 solo, 11 assists) and two pass break-ups.  He made his first career start at Nebraska and he made seven tackles in Iowa's New Era Pinstripe Bowl victory over Boston College.
 
"Matt has more confidence to what is going on and understanding what he has to do," said Parker. "He is always positive, upbeat, and understands our defense. He asks good questions and I like the way he carries himself every day.
 
"I am pleased with where he's going."
 
Hankins' growth comes from an offseason spent with his nose in the Hawkeye playbook.  He has been studying the intricacies of Iowa's defense, giving him a better perspective as to what everybody is doing around him.
 
"My knowledge of the game has grown so much," he said. "I am starting to pick up more than just what I am supposed to do. I am picking up what the linebackers and safeties are doing.  I am in the books a lot, getting to know everything."
 
Ojemudia has witnessed the growth.
 
"He has gotten a lot smarter because he has spent more time in the film room," said Ojemudia. "He's learning more of the defense. Last year he was with the simple calls, now he's becoming a more complex football player."
 
That has led to that different demeanor.
 
"He's a lot more confident, energetic, and talkative," said Ojemudia. "He has a swag out on the field and he's eager to show he's a good player."
 
Hankins was a unanimous first-team all-district selection as a senior at Marcus High School in the suburbs of Dallas.  He committed to being a Hawkeye and stuck to his word after receiving late interest from other Big Ten institutions.
 
"Iowa was the best fit for me," he said. "I still feel like it is and it is the best decision I have made in my life so far. The coaching staff is great, the people, and Iowa City. It all has good vibes."
 
Hankins is humble as he prepares to take over full-time starting duties in year two because he knows there is work to be done.
 
"You have to keep getting better," he said. "(Last year) was just the first year, there is a lot to improve on. I have to improve my tackling, getting off blocks, and cover skills.  You can always get better at something."
 
Iowa opens the 2018 season Sept. 1, hosting Northern Illinois at 2:30 p.m. (CT) inside Kinnick Stadium.  Tickets are available through the Iowa Athletics Ticket Office by clicking HERE.