24 Hawkeyes to Watch 2018-19 | I-Club Events Page | 2018 Football Fall Camp Central | Single Game Football Tickets | HOF: Jeff McGinness | HOF: Alexis Maday | HOF: Sarah (Lynch) Fishbune | HOF: Chris Hatcher | HOF: Jared DeVries | HOF: Kineke Alexander
By DARREN MILLER
hawkeyesports.com
 
IOWA CITY, Iowa — Short in stature, huge in heart.
 
That's how University of Iowa head football coach Kirk Ferentz describes Bob Sanders, one of the most ferocious defenders to play for the Hawkeyes.
 
"I wasn't really recruited at all (out of high school)," said Sanders, his 5-foot-8, 200-pound frame blamed as the perceived liability.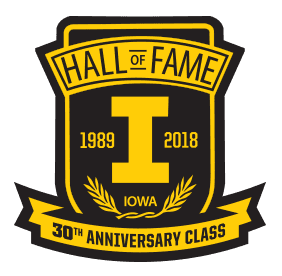 But the smallest guy on the field compensated with hustle and hard work during his playing days at Cathedral Prep in Erie, Pennsylvania. One of his high school coaches, Joe Moore, also coached Ferentz at Upper St. Clair in Pittsburgh. Moore phoned Ferentz and said Sanders would make the Hawkeyes better. Iowa was coming off a 1-10 season and after watching film, Ferentz offered a scholarship.
 
The Hawkeye Hit Man was born. He came to Iowa City in the same recruiting class that produced future pros Jonathan Babineaux, Tony Jackson, Nate Kaeding, Derreck Robinson, Fred Russell, Benny Sapp, and Kevin Worthy.   
 
Sanders played immediately on special teams in 2000. In the ninth game of the season against Wisconsin, he started and made 12 tackles. He remained in the starting lineup for the final three games, making eight stops at Penn State, 12 against Northwestern, and three at Minnesota. Iowa was 2-2 with Sanders in the starting lineup and he was named honorable mention All-Big Ten.
 
"You hate to single out one guy because there have been so many players who gave us a chance to get traction, but Bob was such a catalyst for us defensively," Ferentz said. "We started operating with some tempo, a little bit more urgency, and then we became good. Bob was a big part of that."
 
The Hawkeyes were 3-9 in 2000, 7-5 in 2001, 11-2 in 2002, and 10-3 in 2003.
 
Sanders is one of seven inductees into the 30th National Iowa Varsity Club Hall of Fame class Aug. 31 at the Coralville Marriott Hotel and Convention Center. Tickets to the event, which is open to the public, can be purchased at hawkeyesports.com/HOFtickets.
 
With the hard-hitting Sanders at safety, the Hawkeyes won 24 of their final 30 games. Iowa played in three straight bowl games, defeating Texas Tech in the Alamo Bowl in 2001, losing to Southern California in the Orange Bowl in 2003, and defeating Florida in the Outback Bowl in 2004.
 
Postseason play was a highlight for Sanders.
 
"Going to the bowl games were the bonus at the end of the season," Sanders said. "We worked so hard throughout the year, beginning with training camp. It felt good to make it to those bowls."
 
Sanders finished his college career with 348 tackles, 30 pass breakups, 16 tackles for loss, and seven interceptions. Three times he was named first-team All-Big Ten, twice he was Iowa's most valuable player, and after the 2003 season, was named permanent team captain. Sanders was a second-team All-American by The Associated Press in 2003.
 
"The coaches treated us like men," Sanders said. "There is always a transition going from high school to college; you're on your own and making your own decisions. Iowa's coaches, from early on, were there for you, teaching you how to carry yourself, do the right things, and make the right decisions. That is important and they strive to teach that at Iowa."
 
The growth and improvement Sanders enjoyed at Iowa carried over to a successful career in the National Football League. He was selected in the second round (44th overall) by the Indianapolis Colts in the 2004 NFL Draft and played eight seasons, seven in Indianapolis.
 
On Feb. 4, 2007, Sanders started at safety for the Colts in Super Bowl XLI in Miami. He made two tackles, forced a fumble, and intercepted a pass during a 29-17 win over the Chicago Bears. His honors include being named 2007 NFL Defensive Player of the Year, first-team All-Pro in 2005 and 2007 and Pro Bowl selection in 2005 and 2007. In 50 career NFL games, Sanders made 303 tackles with six interceptions.
 
It was his time at Iowa that readied Sanders for the next level.
 
"The program is top-notch," he said. "The coaches were very professional. They taught us and treated us like men and that's how it is in the NFL. It's easy to make that transition once you get to the NFL. I came from a program where the coaches treated you like a professional early and it made the transition easy."
 
Sanders once told ESPN that his work ethic comes from his father, Marion, who spent 32 ½ years working 17-hour shifts in a factory to support his wife and eight children. That's why Sanders went as hard in practice as he did in games; why he threw his body across a football field for the sake of a team victory.
 
"Bob never changed, he is the same guy whether it was in Erie, Iowa City, or Indy," Ferentz said. "He was a dynamic player and impacted everybody, not just the unit on the field. Our whole football team was better because of Bob."