24 Hawkeyes to Watch 2018-19 | Single Game Football Tickets | I-Club Events Page | 2018 Football Fall Camp Central | News Conference Transcript (PDF) | Photo Gallery – North End Zone Tour | Tuesday Media Availability – Players | Ferentz News Conference Video
By JAMES ALLAN
hawkeyesports.com
IOWA CITY, Iowa — Junior quarterback Nate Stanley is comfortable with the University of Iowa offensive line — a unit that has three first-time starters — heading into Saturday's season opener against Northern Illinois.
 
The Hawkeyes will rotate a trio of tackles — senior Dalton Ferguson, junior Levi Paulsen, and redshirt freshman Mark Kallenberger — in place of suspended starters Alaric Jackson and Tristan Wirfs.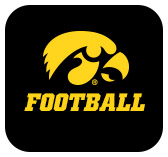 "Any time you go shorthanded at a position, it's a concern, but the good news is we have three guys that have practiced well," Iowa head coach Kirk Ferentz said during a Tuesday news conference. "We have great respect for Northern Illinois and their defensive front is veteran.
 
"The thing that helps that I told our guys is they have been practicing against good guys, too, with (Parker) Hesse and (Anthony) Nelson.  I can throw (A.J.) Epenesa and (Chauncey) Golston in there as well.  It will be interesting to watch, but I think they'll be prepared."
 
The Hawkeyes will also be green in the interior with sophomore Cole Banwart making his first career start at left guard, while senior Ross Reynolds will make his second career start at right guard.
 
"We knew awhile back that we were going to have this dilemma (at offensive tackle)," said senior Keegan Render, the Hawkeyes' most experienced lineman with 20 career starts. "We have been working Dalton, Levi, and Mark all the way through.
 
"We're trying to get them reps and get everybody on the same page. In the last week, we've seen a lot of upgrades and development."
 
Stanley is confident with where the offensive line stands as it prepares to face a Northern Illinois defense that had 114 tackles for loss and 43 sacks last season.
 
"They have done a good job," said Stanley. "I feel comfortable with where they're at right now.  (Having the first-time starters at tackle) hasn't done anything for us as far as changing the game plan.  Those guys have come in, done a great job, and have done their best.
 
"We haven't missed a beat and are looking forward to seeing their hard work pay off."
 
Ferguson is a fifth-year senior who joined the program as a walk-on.  The Solon, Iowa, native has played primarily on special teams during a Hawkeye career that has included two major knee injuries.   Ferguson was one of four Hawkeyes to earn a scholarship during fall camp.
 
"Paying attention to details and trying to take that onto the field has catapulted (Dalton) up a lot," said Render.  "This is something that he deserves and something he has had to work for. I am happy for him."
 
Kallenberger will make his Iowa debut after redshirting in 2017. Render says the 6-foot-6, 282-pound Bettendorf, Iowa, native has improved daily throughout fall camp.
 
"Mark has been good developing and learning," said Render. "He's taking every day as an opportunity to get better."
 
Even with the mix-and-matched starting five, Render says the Hawkeyes are eager to take the field inside Kinnick Stadium.
 
"We've been attacking every day, coming off the ball well, competing, and realizing what it's going to take," said Render. "The biggest thing that has grasped our tackles and the new guys inside is that mistakes are going to be made.
 
"It's how you react from that. We have seen good development the last couple of weeks and everybody is going to be ready to go."
 
Iowa hosts Northern Illinois at 2:40 p.m. (CT), and the game will be televised on BTN with Joe Beninoti, Chuck Long, and Ally Sturm on the call.  Tickets are available at hawkeyesports.com/tickets.