24 Hawkeyes to Watch 2018-19 | Single Game Football Tickets | I-Club Events Page | 2018 Football Fall Camp Central
By DARREN MILLER
hawkeyesports.com
IOWA CITY, Iowa — Ihmir Smith-Marsette returns to the University of Iowa football program for year two and when the season kicks off Saturday, he is expected to return and return some more.
 
Smith-Marsette, a 6-foot-1, 175-pound sophomore receiver from Newark, New Jersey, has joined senior Kyle Groneweg at the top of the Hawkeye depth chart for punt and kickoff returns. Smith-Marsette has never returned a punt in college and has four kickoff returns for a team-leading 33.5-yards average.
 
"I returned (punts) in high school, so it won't be anything new, other than the game speed," Smith-Marsette said. "It is something I take pride in. It is another area I believe I can cause damage against opponents."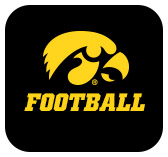 Last season, when the Hawkeyes finished 8-5 and won the New Era Pinstripe Bowl, the bulk of the punt returns were handled by then senior Matt VandeBerg. Sophomore running back Ivory Kelly-Martin returned 19 kickoffs.
 
"We put a lot of stock in punt and kick return," Smith-Marsette said. "It shows that I have been doing everything I can to prove to (the coaches) that I can go out there, make plays, and do what I have to do to put the team in a better position."
 
Smith-Marsette contributed to the offense in a variety of ways as a true freshman in 2017. He caught 18 passes for 187 yards and two touchdowns. Both of his scores came during a 44-41 overtime victory at Iowa State, the second was the game-winner.
 
He also carried the ball seven times for 41 yards.
 
"We liked Ihmir from day one; he has a good personality and he's a football guy," Iowa head coach Kirk Ferentz said. "He has a little wiggle to him and part of being a return guy is you have to want to do it, because it takes courage. I think we have guys that can give us a little octane back there in the return game."
 
Smith-Marsette has already experienced the lows and highs of being a returner. The lesson happened in the same game, two quarters apart, on the day after Thanksgiving in Lincoln, Nebraska. Nebraska kicked off after scoring on its opening drive. The ball sailed to the right of Smith-Marsette, who caught the ball, then momentum carried him out-of-bounds at Iowa's 1-yard-line.
 
"(The lesson I learned was to) let the ball go," Smith-Marsette said. "Other than that, hit it full speed and give it everything you have; be decisive and go forward, don't look back."
 
Poor field position didn't keep the Hawkeyes from driving 99 yards on 15 plays to tie the game. The special teams miscue didn't haunt Smith-Marsette for long, either. He fielded the second-half kickoff, sprinted upfield to his right, found an opening to his left and raced into the end zone. A penalty negated the score, but Smith-Marsette still had a career-long 74-yard return and Iowa took the lead for good five plays later in a game it won, 56-14.
 
"You need short-term memory in this game," Smith-Marsette said. "Later on, I had a 74-yard kick return, so I just got past that and shut it out."
 
A year ago, the Hawkeyes averaged 24.4 yards per kickoff return and 6.2 yards per punt return. Their season opening opponent, Northern Illinois, allowed a punt and kickoff return for a touchdown in 2017.
 
"I want to go out there and put the team in a good position," Smith-Marsette said. "That's it, put the team in a good position and let the offense go to work from there."
 
Iowa hosts Northern Illinois on Sept. 1 at 2:40 p.m. (CT). The game will be televised on BTN with Joe Beninoti, Chuck Long, and Ally Sturm on the call. Tickets are available at hawkeyesports.com/tickets.