24 Hawkeyes to Watch 2018-19 | Single Game Football Tickets | I-Club Events Page | Photo Gallery
By DARREN MILLER
hawkeyesports.com
IOWA CITY, Iowa — Chad Greenway never imagined how his life would change for the better when he enrolled at the University of Iowa in the fall of 2001. Seventeen years after becoming a Hawkeye, Chad and his wife, Jenni, are enhancing lives of patients at the University of Iowa Stead Family Children's Hospital.
 
On Friday, Greenway's Lead the Way Foundation donated a "Chad's Locker" at the Janice and Bruce Ellig Children's Library on Level 1 of the Stead Family Children's Hospital. The locker, accompanied by a mobile video game console, includes DVD players, iPads, movies, an Xbox One, and several Xbox games. The gift of technology and entertainment is updated quarterly.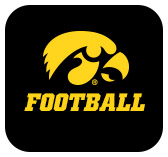 "The most important part in all of this is that we got our start at the University of Iowa and all the opportunities (head football) coach (Kirk) Ferentz provided for me," Greenway said. "He put us in position to be successful, taught us how to be proper adults, to be a man, to be a husband, to be a father, and someone who really cared about the community. That was rooted in South Dakota, where I grew up, and it grew in Iowa City.
 
"I am so proud to be part of this program and be part of a group of people who get what matters over and above the wins and losses. We all love the wins, but to truly make an impact in our community in a positive way."
 
Greenway, an All-Big Ten linebacker, lettered for Iowa's football program from 2002-05 before being selected in the first round of the NFL Draft by the Minnesota Vikings and enjoying a 10-year professional career. His wife competed in cross country and track and field for the Hawkeyes.
 
"We thank the Iowa City community and all the people involved in helping raise us as people to help provide this," Greenway said. "It is such a great community to be part of. When I signed up in 2001 to come here, I didn't realize how much it would change my life. My wife, Jenni, ran track and cross country; her life changed in a positive way over four years in Iowa City."
 
There are hundreds of daily visitors to the two libraries at the University of Iowa Hospitals and Clinics (UIHC), said Jennifer Thompson, assistant director for support services for the UIHC. The gift from the Greenways will enrich the patient and family experience.
 
"It's a great way for kids to be kids," Thompson said. "They are able to escape some of the realities of what they are dealing with every day; it is also important for the families to escape as well."
 
The "Chad's Locker" at the UIHC is the eighth donated by the Lead the Way Foundation. There are four in the Twin Cities, and one each in Hudson, Wisconsin, Hutchinson, Minnesota, and Sioux Falls, South Dakota.
 
Aside from the "Chad's Locker" cause, the Greenways also host Tender Heart Luncheons for mothers, Field of Dreams staycations for families at the Mall of America, a kid's camp, and a 5-kilometer road race.
 
"Everything we focus on is kids and trying to make an impact to as many as we can," Greenway said.
 
Greenway was accompanied at the ribbon cutting ceremony by Jenni and their four daughters, Maddyn, Beckett, Blakely, and Carsyn.
 
"We can't change the fact kids have to come in and get treatment or go through hard times, but we can try to distract them in as many ways as we can," Greenway said.
 
Behind the podium where Greenway spoke, a Vizio screen displayed an Xbox football battle between Greenway's former team, the Vikings, and the Chicago Bears. On Friday, Greenway didn't even mind when the Bears grabbed a 17-6 lead.
 
"Chad's Locker" is one of those causes greater than wins and losses.