Hawkeye Fan Shop — A Black & Gold Store | 24 Hawkeyes to Watch 2018-19 | Hawk Talk Monthly — June | Box Score (PDF) | Boxscore
SEATTLE, Wash. — Despite a first set victory, the University of Iowa volleyball team fell to No. 13 Washington in its opening match of the Pac-12/Big Ten Challenge on Friday night inside Alaska Airlines Arena.
HOW IT HAPPENED
SET 1 (25-21) Iowa went point for point with Washington until an Amiya Jones block gave Iowa enough breathing room to open a 15-13 lead. Senior Taylor Louis recorded four of Iowa's last seven points to clinch the first set. Sophomore Brie Orr chipped in six assists and freshman Courtney Buzzerio tallied five assists.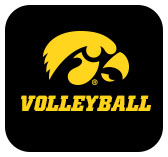 SET 2 (22-25) Iowa kept it close against during the second set, but a six point run allowed Washington to take the lead at 16-13. Despite a three point run to close the gap to 19-18, Iowa couldn't keep up and lost the second set. Orr tallied 12 assists and two digs.
SET 3 (23-25) The Hawkeyes opened on a 4-1 run to start the third set with two kills apiece by junior Cali Hoye and Louis. The duo led Iowa in the set with four kills each. Iowa held the lead until Washington tied the game at 19. After a dump by sophomore Brie Orr to give Iowa the lead, the Huskies tied the game again at 23 and closed the final two points.
SET 4 (16-25) The Hawkeyes and Huskies went back and forth in the fourth set with five ties before either team had 10 points. Iowa allowed a four point run to Washington to make it 9-15 and the Hawkeyes only mustered seven more points. Hoye and Louis tied for the team lead with four kills in the final set. Hoye added a team-high seven digs.
NOTEABLES
Junior Cali Hoye notched a career-high with 16 kills.
Senior Taylor Louis recorded her third game of the season with 18 or more kills.
Freshman Hannah Clayton led Iowa with four block assists.
UP NEXT
Iowa wraps up the Pac-12/Big Ten Challenge tomorrow against No. 21 Colorado at 5 p.m. (CT) on the Pac-12 Network. Live audio and stats are available on hawkeyesports.com.