24 Hawkeyes to Watch 2018-19 | Hawkeye Fan Shop — A Black & Gold Store | WEEK 3 NOTES
THE MATCH-UP
The University of Iowa soccer team travels to Iowa State for the Iowa Corn Cy-Hawk Series on Friday at 7p.m. (CT) at the Cyclone Sports Complex. The Hawkeyes will then face Wyoming on Sunday in Laramie, Wyoming, at 1 p.m. at the Madrid Sports Complex.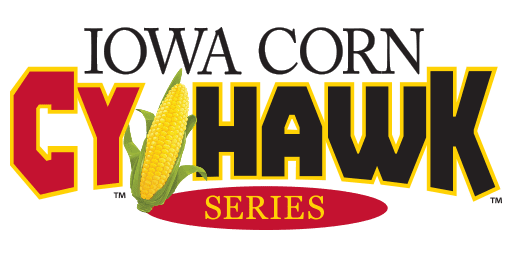 WATCH/FOLLOW LIVE
• Friday's game will be available on CYCLONES.TV, while Sunday's game will be on MWDN.
• Live stats for both contests will be available on hawkeyesports.com by visiting the Iowa soccer schedule page.
• Fans can follow the Iowa soccer program on Twitter (@HawkeyeSoccer) for live game updates.
LAST TIME OUT
• The Hawkeyes won the team title at the Hawkeye Invitational, going 2-0.
• Iowa scored a season-high three goals as it topped Central Michigan, 3-1, to open the Hawkeye Invitational.
• The Hawkeyes shutout VCU for a 2-0 win Sunday.
• Senior Morgan Kemerling, juniors Claire Graves and Natalie Winters, and redshirt freshman Josie Durr were selected to the Hawkeye Invitational All-Tournament team.
SCOUTING IOWA STATE
• Iowa State has started the season 1-4-1, with its lone win coming over South Dakota State, 2-0, on Aug. 17.
• The Cyclones have had five different players score this season.
• Head coach Tony Minatta is in his fifth year with the Cyclones.
SCOUTING WYOMING
• Wyoming has opened the season with a 3-1-1 record with wins over South Dakota, Utah Valley, and Idaho State.
• Pete Cuadrado is in his seventh season as the Cowgirls' head coach.
• The Cowgirls tied Northern Iowa, 0-0, on Aug. 24.
THE SERIES
• The Hawkeyes have won three straight over Iowa State and lead the all-time series, 12-6-2. Junior Olivia Fiegel scored the game-winning goal in overtime last year to give Iowa the 1-0 victory in Iowa City.
• The Hawkeyes won the only previous meeting against Wyoming in 2016 in Iowa City. Junior Natalie Winters converted a penalty kick to help lead Iowa to a 3-2 win.
SHUTTING DOWN OPPONENTS
• Junior goalkeeper Claire Graves has surrendered one goal this season while posting four shutouts.
• She earned her 15th career shutout against VCU to move in to second place all-time in career shutouts.
• Graves has tallied 19 saves this season, playing all 470 minutes.
DURR STRIKES
• Redshirt freshman Josie Durr made the most of her first two starts as a Hawkeye this past weekend. Durr scored the game-winning goal — her first career goal — against Central Michigan, followed up with the game-winner against VCU.
WHEATON'S EARLY IMPACT
• Freshman Sara Wheaton has started all five games for the Hawkeyes, playing 461 of the 470 minutes while tallying two assists.
HAWKS ATOP THE B1G
• Iowa is atop the Big Ten standings with a 4-0-1 overall record.
• Junior Natalie Winters is second in the Big Ten with a 3.40 shots per game and 17 shots.
• Durr is second in the conference with two game-winning goals.
• Graves leads the conference in shutouts (4), shutouts per game (0.80), and goals against average (0.19). She is second in save percentage (.950) and fifth in saves per game (3.80).
NATIONALLY SPEAKING
• Iowa is ranked top-10 nationally for goals against average (first, .000), save percentage (fifth, .950), and shutout percentage (ninth, .800).
• Durr is 15th nationally in game-winning goals with two.
• Graves is ranked in the top-11 in shutouts (third, 4), save percentage (ninth, .950), and goals against average (11th, .190).
DEBUT TIME
• Freshman Jenny Cape made her Hawkeye debut and junior Olivia Fiegel made her first appearance of the 2018 season last weekend at the Hawkeye Invitational.
CAREER FIRSTS
• Freshman Olivia Hellweg scored her first career goal on junior Bianca Acuario's first career point in Iowa's 2-0 victory over VCU.
BURNS RETURN
• Junior Devin Burns — Iowa's leading goal scorer in 2017 — will return to the Hawkeye lineup this week. Burns missed Iowa's first five games recovering from a meniscus injury.
WINTERS STAYS HOT
• Winters scored twice against Central Michigan for her first career two-goal game. She has a team-leading three goals on the season.
• The junior midfielder leads the Hawkeyes with six points and 17 shots, putting nine on goal.
GOING THE DISTANCE
• Four Hawkeyes — Graves, Wheaton, Hannah Drkulec, and Kemerling – played the full 180 minutes in the Hawkeye Invitational.
• Kemerling has played every minute this season as Iowa's central defender and 90 or more minutes in 20 of Iowa's last 23 games. 
B1G PRESEASON HONORS
• Three Hawkeyes — juniors Devin Burns, Kaleigh Haus, and Natalie Winters — were named to the Big Ten Preseason Honors List. Burns led the team with nine goals and 23 points, Haus finished third on the team with five goals and 14 points, and Winters started all 19 games and has started all 38 games of her collegiate career.
• Iowa was picked to finish 10th in the Big Ten in the preseason coaches' poll.
BURNS X 2 X 2
For the third straight season there will be a Burns tandem on the Iowa soccer roster.  It was Corey and Devin Burns in 2016 and 2017.  Corey is now playing professionally in  Denmark, but the sister duo continues with freshman Riley Burns joining the Hawkeyes' roster and her sister Devin.
TEAM CAPTAINS
Senior Morgan Kemerling and redshirt junior Kaleigh Haus are Iowa's team captains for the 2018 season.
CHALLENGING SLATE
• Iowa will play five contests against NCAA Tournament teams in 2018.
• The Hawkeyes will face three opponents who are currently ranked in the United Soccer Coaches top-25 — Penn State (11) and Northwestern (15). Four more Iowa opponents are receiving votes.
COACHING STAFF CHANGES
The Hawkeyes have added Katelyn Longino as an assistant coach and Drago Ceranic as a volunteer assistant coach to the 2018 coaching staff. Longino joins Iowa following coaching stints at Valparaiso, Xavier, and Columbus State. Ceranic coached with the Cedar River Soccer Association since 2009 and has been a part of Iowa's Olympic Development Program since 2016.
ON THE HORIZON
Iowa opens Big Ten play Sept. 14 at 6 p.m. (CT) at Maryland. The Hawkeyes will travel to face Rutgers at noon on Sept. 16.