24 Hawkeyes to Watch 2018-19 | I-Club Events Page | Single Game Football Tickets
By DARREN MILLER
hawkeyesports.com
IOWA CITY, Iowa — You don't grab 238 passes in high school without knowing how to absorb a hit. University of Iowa sophomore T.J. Hockenson is proof.
 
It's true that 49 of Hockenson's receptions at Chariton (Iowa) High School were touchdowns, but that leaves 189 where he probably took a pretty decent shot from a linebacker or defensive back.
 
Whatever the case, Hockenson is more than field ready at the Division I level.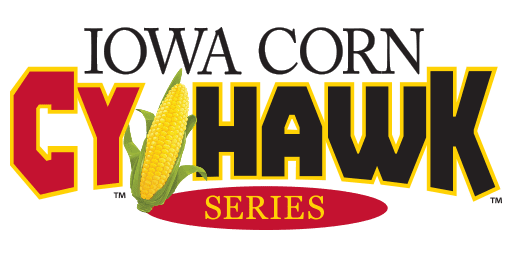 His performance during a season-opening 33-7 victory over Northern Illinois on Sept. 1 is symbolic of life for a Hawkeye tight end. He caught a team-high four passes for a game-high 64 yards and moved the first down chains three times.
 
In the process, he accepted a few jarring tackles.
 
"You have to have a knack," Hockenson said.
 
It's a situation where Hockenson transforms soft hands into a glue-like vise that won't surrender the football.
 
"When there is a guy on your back, you have to be anticipating the hit," Hockenson said. "You have to catch the ball with soft hands and then firmly tuck it."
 
He did that 24 times as a redshirt freshman in 2017. His biggest output came in a 55-24 victory over No. 3 Ohio State when Hockenson caught five passes for 71 yards and two touchdowns. He had three catches against North Texas, Michigan State, and Purdue.
 
Although he didn't find the end zone against Northern Illinois, Hockenson's 64 all-purpose yards were second on the team to Toren Young, who rushed for 84 yards on eight carries. Hockenson's receptions went for 6, 13, 24, and 21 yards. The final three moved the chains.
 
Aside from being physical enough to bounce up tackle after tackle, the tight ends at Iowa also need to be trusting folk.
 
"There are a lot of variables that go into it, but you have to trust that (quarterback Nate) Stanley puts (the ball) in the right place and you have to trust the other (receivers) are running the right routes," Hockenson said.
 
The ball-catching skills that have helped elevate Hockenson to a starter for the last 12 games (and 13 times in his 14-game career) could have been fostered as a youngster in Chariton. And "the drill" happened against the wishes of his mother, Teri.
 
"My brothers always threw balls at me when I was younger," Hockenson said. "My mom harped on them for throwing it too hard at me, but it has obviously worked out so far."
 
Hockenson and the Hawkeyes turn their attention to Iowa State and the Iowa Corn Cy-Hawk series Sept. 8. Last season in Ames, Hockenson corralled his first two receptions as a collegian — for 41 yards — and the Hawkeyes won, 44-41 in overtime.
 
"Iowa-Iowa State was always a big thing when I was younger," Hockenson said. "Just being able to watch that on TV and being able to come to the games. Because I'm from (Iowa) it has a special place in my heart and I think it does for a lot of these guys. At the same time, it's just another week and it's just another game."
 
Saturday's game will kick off at 4:05 p.m. (CT); it will be televised on FOX with Tim Brando, Spencer Tillman, and Holly Sonders on the call. The game is sold out.