Hawkeye Fan Shop — A Black & Gold Store | 24 Hawkeyes to Watch 2018-19
By JAMES ALLAN
hawkeyesports.com
IOWA CITY, Iowa — A few months back, Liz Tovar, the University of Iowa's associate athletics director for student-athlete services, gave Hawkeye student-athletes and Student-Athlete Advisory Committee members a peak of the renovations occurring at the Gerdin Athletic Learning Center (GALC).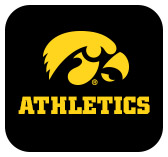 "One student walked around and said, 'I am going to live here,'" Tovar said Friday during the ribbon cutting ceremony with donors, friends, and supporters. "That's exactly what we were going for with this project.
 
"We have great student-athletes and they have always loved this facility, but the renovations and all we have been able to incorporate from technology to additional tutoring spaces, regardless of what you want, you will find it at the Gerdin Athletic Learning Center."
 
Since classes began in August, Gerdin has lived up to being a place to be. 
 
The facility has had more than 3,000 student visits with 2,000 being for quiet study time or to utilize the student-athlete fueling stations. In the first semester, Tovar says the facility has more than 7,500 student contact appointments scheduled.
 
"It's a different atmosphere," said Nicholas Baer, a senior on the men's basketball team. "You see people who want to come here, people who want to learn.  It's a great resource."
 
It was the vision of Russell Gerdin, a donor from Solon, Iowa, that saw the initial plans for the Gerdin Athletic Learning Center come to fruition in 2003.  With changes in technology in the 15 years since, the Gerdin family stepped up with the lead gift again.
 
"Helping athletes get through college is what (my parents) wanted to do and why they stepped forward to partake in this building," said Mike Gerdin, Russell's son. "It has turned out wonderful; I want to thank everyone involved.  It's gorgeous."
 
With renovations, the facility has 28,000 additional square feet and an abundance of natural light in the building's floor plan.  The third floor, which Russell Gerdin mandated to remain unfinished in 2003 to accommodate for "future growth," has been remodeled to include study space and meeting rooms.
 
"We have a three-legged stool — win, graduate, and do it right," said Henry B. and Patricia B. Tippie Director of Athletics Chair Gary Barta. "This building gives us the opportunity to pursue these columns and the next step in life.  That is earning a degree and getting ready to be a contributor in life."
 
Click HERE to read another story on the initial open house at the Gerdin Academic Learning Center.