24 Hawkeyes to Watch 2018-19 | I-Club Events Page | Single Game Football Tickets | Apple App | Android App | Hawk Talk Monthly — June | Sign Up For Season Tickets
Editor's Note: To view exclusive video highlights of this Fight for Iowa Coca-Cola moment, purchase a University of Iowa Hawkeye 16 ounce Coca-Cola can for sale throughout Eastern Iowa, download the Hawkeye Sports App, and select the Xtream HawkVision feature throughout the countdown.
By RICK BROWN
hawkeyesports.com
 
IOWA CITY, Iowa — There were plenty of outstanding performances in Iowa's 37-17 victory over Florida in the 2004 Outback Bowl.
 
Like Fred Russell's 150 rushing yards and Maurice Brown's 96 receiving yards. Nate Kaeding's three field goals without a miss. David Bradley's 42.6-yard punting average. A defense that held the Gators to 57 yards rushing. Matt Roth and Howard Hodges combining for two sacks and 19 tackles. An interception by Jovon Johnson.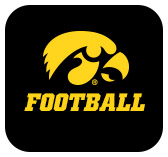 All that played a factor in the 12th-ranked Hawkeyes getting their 10th victory of the season and first January bowl triumph in 45 years.
 
But when University of Iowa coach Kirk Ferentz flashes back to that game, he thinks of something else.
 
"The big play was the blocked punt by Matt Melloy," Ferentz said. "When that happened it was like, game over."
 
Iowa had spotted No. 17 Florida a 7-0 lead on a 70-yard touchdown pass from Chris Leak to Kelvin Knight in the first quarter.
 
"And then we turned it around," Ferentz said.
 
The Hawkeye offense got untracked and the defense got stubborn. Iowa scored 20 unanswered points the remainder of the half — a 3-yard Nathan Chandler-to-Brown touchdown pass, a Chandler 5-yard run, and Kaeding field goals of 47 and 32 yards.
 
Florida had the first possession of the third quarter, but was forced to punt after three plays. Melloy, a backup wide receiver, blocked Eric Wilbur's punt at the Gator 21 and recovered it in the end zone for a touchdown. That increased the Iowa lead to 27-7, and Florida was forced to play uphill the rest of the game.
 
Russell broke off a 34-yard touchdown run in the third quarter, then Kaeding added the exclamation point with a 38-yard fourth-quarter field goal. Iowa had a victory over a Southeastern Conference rival.
 
 "The SEC has always had good football teams," Ferentz said. "But I think that perception stuff gets blown out of proportion sometimes."
 
Just as important to Ferentz was the fact that his team had learned a lesson from the year before. Iowa had gotten on a roll in 2002, running through the Big Ten portion of its schedule undefeated. That team played No. 5 Southern California in the Orange Bowl and lost, 38-17.
 
"As good as that season was, we probably weren't ready mentally to fly at that altitude in the Orange Bowl," Ferentz said. "We had played in a bowl game the year before (Alamo Bowl), but not a January bowl."
 
Ferentz thought his team was good enough to beat Ohio State, the 2002 national champion.
 
"Not in September," Ferentz said. "But I'll go to my grave thinking we could have beaten Ohio State in October or November. I think we could have competed with anyone in the country if we were playing well, once that 2002 team got going. We were humming from mid-October on. Obviously we didn't play well in the bowl game, so that could shoot a hole in that argument."
 
That 2002 team received a wealth of recognition.
 
"I remember we had meals at the University Athletic Club," Ferentz said. "Not every night, but frequently. And the autograph hounds would show up. That was the first time I had ever been exposed to that on a college campus. I had seen it in pro ball, but this was a whole different experience and we didn't handle the month of December very well. I think all of us, coaches and players, were committed to doing a little bit better job next time we had a chance to play in a January bowl."
 
They didn't have to wait long. Victories in the final two regular-season games, at home against Minnesota and at Wisconsin, earned the Hawkeyes a New Year's Day matchup with Florida.
 
Ferentz was confident the Hawkeyes had learned from the Orange Bowl experience the year before.
 
"When we've blown something, I think we've done a decent job historically of going back and dissecting it and coming up with a couple things," Ferentz said. "What went wrong and how do we correct it? That's not just input from coaches, but input from players as well. It was pretty well thought out."
 
So a new blueprint was in place, long before the bowl bids were issued.
 
"Then we were able to execute it, which is the big thing," Ferentz said. "Our players did a good job of preparing, both here and in Florida. The most important thing is they played well."
 
After Florida's 7-0 start, Iowa went on a 37-3 scoring run. During that stretch of dominance, the Hawkeyes had 348 yards of offense; Florida had just 128. Iowa scored on all four of its trips inside the red zone. Florida got there once and failed to score. And the Hawkeye defense forced Florida's offense to three-and-out possessions eight times.
 
A second Leak touchdown pass, late in the game, was merely cosmetic. Shortly after,
Ferentz got a Gatorade shower on the sidelines as the final seconds ran off the Raymond James Stadium scoreboard clock.
 
"It was all pretty good," Ferentz recalled. "I can't remember ever getting a bad one of those, or seeing a bad one on TV."
 
The Florida victory was Iowa's 21st in 26 games over a two-season run. Both those teams finished eighth in the final Associated Press poll. But one season ended on a much happier note.
 
"Our guys played well," Ferentz said. "They were ready to go."