Hawkeye Fan Shop — A Black & Gold Store | 24 Hawkeyes to Watch 2018-19 | Hawk Talk Monthly — September | Drake Box Score (PDF) | SDSU Box Score (PDF) | Boxscore
DES MOINES, Iowa — The University of Iowa volleyball team (4-3, 0-0) bounced back with sweeps over South Dakota State and Drake University inside the Knapp Center on Saturday.
HOW IT HAPPENED – SOUTH DAKOTA STATE
Set 1 (25-16)| The Hawkeyes and Jackrabbits traded points until senior Reghan Coyle's first of two kills in the set gave Iowa the lead at 5-4. Junior Cali Hoye capped off a long rally to bring Iowa's lead to 7-5, which allowed Iowa enough breathing room to take control of the set. Senior Taylor Louis ended the set by scoring four of the team's last six points.
Set 2 (25-16)| Iowa opened the second set on a 6-2 run. The Jackrabbits brought the score within two points before the Hawkeyes capitalized on a service error. Iowa never allowed South Dakota State within two points for the rest of the set as Hoye and Coyle added four kills each.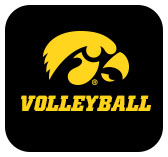 Set 3 (25-19) | Iowa and SDSU went back and forth in the third set with three ties before kills by sophomore Griere Hughes helped the Hawkeyes build a lead at 17-14. Iowa sealed the set and match with two service aces by senior Molly Kelly and a service error by the Jackrabbits.
HOW IT HAPPENED – DRAKE
Set 1 (34-32) | The longest set of the season for the Hawkeyes saw 66 points and 45 assists for both teams. Iowa started out with a 3-0 lead, but the Bulldogs caught up at 3-3 and it was no more than a two point game from there. Iowa fell behind 31-32, but a kills by Louis evened the score and then Coyle gave Iowa the lead before a Clayton kill sealed the set.
Set 2 (25-23) | Iowa started the second set out with 2-0 lead again before the score was evened up. Iowa and Drake saw a total of 11 tied and six lead changes in the second. Iowa went on a four point run before a Drake timeout, which gave Iowa life. The Hawkeyes finished the second set with four of their last seven points coming off blocks.
Set 3 (25-15) | Iowa took control in the third set. The team started off on a 5-2 run and followed with an eight point run to make the score 23-11. Clayton sealed the win with a kill at 25-15. Louis and Hoye led Iowa in the set with five kills each.
NOTEABLES
·       Freshman Maddie Slagle started her first career game against SDSU.
·       Iowa tallied a season-high six service aces against SDSU.
·       Freshman Amiya Jones notched a .778 (7-9) attack percentage versus SDSU.
·       Jones tallied a career-high seven blocks against Drake.
UP NEXT
The Hawkeyes host their home opener tomorrow at 2 p.m. (CT) inside Carver-Hawkeye Arena against Eastern Illinois.