24 Hawkeyes to Watch 2018-19 | Hawk Talk Monthly — September | Box Score (PDF) | Photo Gallery | Boxscore
IOWA CITY, Iowa — The University of Iowa volleyball team completed its third sweep of the weekend with a dominant performance inside Carver-Hawkeye Arena for the first time this season.
HEAR FROM COACH SHYMANSKY
"We've been battle tested the last few weeks on the road and to finally get our home opener and a 3-0 sweep was fantastic. The crowd was amazing and there was a lot of Hawkeye pride, especially after the Iowa football win yesterday. We were anxious to get out in Carver and test our mettle. I thought we played very clean at the start. It's been a long three weeks on the road for our team, so now we have to get things amped up for Ames next weekend and see if we can knock out Iowa State."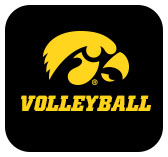 HOW IT HAPPENED
SET 1 (25-15) | The Hawkeyes opened their 2018 season inside Carver-Hawkeye Arena with a kill from junior Cali Hoye. She finished with four kills in the set. Sophomore Brie Orr added 13 assists in the set and senior Reghan Coyle finished with a perfect hitting percentage in the first frame (4-4).
SET 2 (25-18) | Iowa found its stride in the second set, building an 18-9 lead thanks to seven kills from senior Taylor Louis and two blocks from Orr. She also added 11 assists. Iowa outpaces Eastern Illinois with 15 kills to the Panthers' 11. Iowa allowed Eastern Illinois to close the gap, but capitalized on service errors and attack errors to seal the set.
SET 3 (25-20) | In the closest set of the match, Iowa trailed Eastern Illinois 14-15 before a kill by Hoye and back-to-back kills by Louis forced a timeout. Iowa never trailed for the rest of the set as Hoye finished the match off with two kills. She notched 13 in the match.
NOTEABLES
·       Orr tallied her second highest assist total of the season with 42.
·       Hoye notched a career-high 14 digs to rank second on the team.
UP NEXT
The Hawkeyes travel to Ames, Iowa, for the Cyclone Classic Sept. 14-15. Iowa faces off against Iowa State on Friday and Wyoming and Syracuse on Saturday.