24 Hawkeyes to Watch 2018-19 | Hawk Talk Monthly — September | I-Club Events Page | Single Game Football Tickets
By RICK BROWN
hawkeyesports.com
 
IOWA CITY, Iowa — The Iowa Corn Cy-Hawk Trophy left the Stew and LeNore Hansen Football Performance Center in 2014 after a three-point loss to Iowa State.
 
Floyd of Rosedale followed, after a one-sided defeat at Minnesota. The Heartland and Heroes Game trophies also went out the door after close losses to Wisconsin and Nebraska. It was a negative Grand Slam of a trophy season.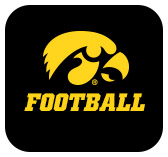 In the summer of 2015, team members arrived for workouts and found a smashed trophy case in the middle of the weight room. The destruction was a subtle message from strength coach Chris Doyle that you don't own trophies, you have to earn them.
 
That message hit home.
 
Saturday's 13-3 victory over Iowa State at Kinnick Stadium was Iowa's 11th victory in its last 13 trophy games since that smashed trophy case made an appearance.
For 10 Hawkeye seniors, Saturday's victory meant even more.  They finished their careers 4-0 against the Cyclones. It's the first time in head coach Kirk Ferentz's 20 seasons as head coach that the Hawkeyes have won four straight games in the series. Iowa now leads the overall series, 44-22.
 
"It's awesome, winning four in a row," said starting center Keegan Render of Indianola, one of those 10 seniors. "Being from central Iowa, I watched this game when I was in middle school and high school. Half of my high school went to Iowa State. Maybe it gives you more bragging rights when you go home. It's a little extra special."
 
Nine of those 10 seniors redshirted their first season on campus. Five of them came as walk-ons — Sam Brincks, Austin Kelly, Dalton Ferguson, Jake Gervase, and Miguel Recinos.  The five players coming on scholarship were Render, Matt Nelson, Ross Reynolds, Parker Hesse, and Jack Hockaday, who arrived in 2015 and didn't use a redshirt season.
 
Joining Render as Iowans are Brincks (Carroll), Hesse (Waukon), Gervase (Davenport), Recinos (Mason City), Nelson (Cedar Rapids), Reynolds (Waukee), and Ferguson (Solon).
 
"When I go home, there are no hard feelings," Render said. "Nobody says anything. I just have that little extra smile and it feels good."
 
Being a home state player, and competing in an in-state rivalry, can bring plenty of emotion with it. Render said he has handled that added pressure with a one game at a time mentality.
 
"You might have a little more pressure on you, but you just have to try to relax and go through the same process every week," Render said. "This game means a lot to us. Coach Ferentz doesn't speak a lot about it in public, but every game means a lot to him. That one game at a time mentality.  It was special in the locker room."
 
Render is in his first season as Iowa's starting center. He started seven games at left guard and one at right guard as a sophomore in 2016.
 
"He's a guy that's played a lot of football for us," Ferentz said. "He doesn't say a lot, but boy, he's a leader and everybody responds to him. He's so steady and good with the younger guys, too."
 
That's an important trait this season. Starting offensive tackles Tristan Wirfs and Alaric Jackson are sophomores who played their first game of the season Saturday after missing the opener because of suspensions. Starting right guard Cole Banwart, another sophomore, is seeing his first extended duty this season.
 
The offense struggled to move the ball consistently against Iowa State, but improved in the second half. The offense produced 198 of its 271 yards after halftime.
 
"I think consistency was our biggest problem," Render said. "We came out with a good game plan. They showed us a couple of fronts we hadn't seen, and played things a little different than we had practiced. At halftime we made some adjustments, and we got the ground game going a little better."
 
Saturday's victory was a defensive tug-of-war, a far cry from a 44-41 overtime victory at Iowa State last season.
 
"Last year we had to pick them (the defense) up, and this year they had to pick us up," Render said. "We just have to stay together, stay the course, and it's all going to work out."
 
Iowa returns to action Saturday, hosting Northern Iowa at 6:30 p.m. (CT) inside Kinnick Stadium.  The game is sold out.