24 Hawkeyes to Watch 2018-19 | I-Club Events Page | Single Game Football Tickets
By HANNAH OSSMAN
hawkeyesports.com
 
IOWA CITY, Iowa — University of Iowa head coach Kirk Ferentz earned the title of the 'Winningest Head Coach' in school history after the Hawkeye's 33-7 victory over Northern Illinois on Sept. 1. Since then, the Hawkeyes put up a second win against Iowa State, career win number 145 for Ferentz.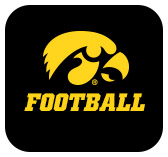 Of those 145 wins, defensive line coach Reese Morgan has had a sideline view for all but one.  
 
"It's a tremendous honor to be here," Morgan said. "Coach Ferentz, the whole program, and the core values that we have all start with him. Everybody in the whole organization is so proud of him and happy to be a part of this special achievement."
 
Morgan's 19th season has started out as one of his best. The Hawkeyes' defense, led by Morgan's tackles and ends, has allowed five points per game, second in the country.
 
"[The line is] a small part of the big picture: offense, defense, special teams," Morgan said. "We're just a small part of that, and we really like the guys that we have, the chemistry in the group. We really enjoy the camaraderie that we have within the entire defense, especially within the coaches and the players in that room."
 
The defensive line has recorded seven of the team's nine sacks on the season for 52 yards. Leading the Hawkeyes are sophomore A.J. Epenesa's three sacks for 22 yards; and senior Parker Hesse's two for 13 yards.
 
Epenesa was named Big Ten Co-Defensive Player of the Week after recording two sacks, five tackles, one pass breakup, and a forced fumble against the Cyclones. His Week 2 stats added to the four tackles, one sack, and one forced fumble in the previous game.
 
A crucial part of the line's success — 36 tackles, seven sacks, three pass breakups, four quarterback hurries, two forced fumbles, and two fumble recoveries — has been the player's freshness and rest time between reps. The Hawkeyes have 10 defensive linemen in the rotation.
 
"[We are able to] play a lot of guys, keep them fresh," Morgan said. "You play a lot of opponents that are running tempo offenses, where they're taking 13, 14, 15 seconds between plays, so you can get fresh players on the field. Plus, the more guys that play, the better your morale is. It's better for the whole team, so that's a positive, but it has to be earned on the practice field."
 
The depth has also allowed Iowa to play strong in the fourth quarter. The Hawkeyes have outscore its opponents 40-7 in the second half, this season.
 
They hope to continue that trend Saturday when they host Northern Iowa at Kinnick Stadium at 6:40 p.m. (CT). The game will be televised on BTN.