24 Hawkeyes to Watch 2018-19 | Single Game Football Tickets | I-Club Events Page | Hawk Talk Monthly — September | VIDEO — Marvin Sims, Jr. | Kid Captain: Quinn Stumpf
By DARREN MILLER
hawkeyesports.com
IOWA CITY, Iowa — The 2010 football season was a success for the University of Iowa. The Hawkeyes won eight games — four against ranked opponents — as well as the Insight Bowl in Tempe, Arizona.
 
For all 13 games there was a small, round decal with the letters "MS" on each Hawkeye helmet. The initials honored Marvin Sims, a counselor at the university, who worked 16 years in athletics before passing away from cancer.
 
"He had a unique ability to connect with people, understand people, and give great advice,"
 Iowa head coach Kirk Ferentz said. "That is a gift."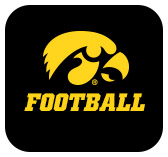 His son, Marvin Sims, Jr., is honorary football captain when the Hawkeyes take on Northern Iowa on Saturday at 6:40 p.m. (CT) inside Kinnick Stadium. He didn't think his father would be 100 percent behind being honorary captain.
 
"He would not be happy because he was not a spotlight guy," Marvin Jr., said. "If he had to accept it he would say, 'Do my name well and act like you have been there before.' But really, my dad was a behind-the-scenes guy and he wanted no credit for the work he did."
 
Football has touchdowns. Marvin Sims touched lives. In preparation for his Friday speech to the current Hawkeye players and staff, Marvin Jr., sifted through boxes of thank you letters from Ferentz, Hayden Fry, former athletic director Bump Elliott, and former University of Iowa presidents Hunter Rawlings and James Freedman.
 
"For him, that's what it was all about," Marvin Jr., said. "How could he give back and touch and improve lives every day?"
 
The elder Sims was an avid musician and played in a band. His son used a "one band, one song" theme to emphasize working together.
 
"It's how the offense, defense, and special teams come together as one as a collective unit to get that victory," he said.
 
Ferentz recalled his first recruiting event as Iowa's head coach in 1998. He said Sims spoke to the group, then paused before passing Ferentz in an aisle. Sims whispered, "These guys need a good kick in the (rear)," Ferentz said. "That was his psychological analysis of our football team and he was spot on. That's all the team needed, a little more push."
 
As honorary captain, Marvin Jr., will accompany Iowa's game captains to midfield Saturday for the pregame coin toss. He will also be with the Hawkeyes in the locker room before and after the game.
 
"I'm out there to represent (my father) and the Sims family, so hopefully I can do that (Saturday)," Marvin Jr., said.