24 Hawkeyes to Watch 2018-19 | Hawkeye Fan Shop — A Black & Gold Store
By JAMES ALLAN
hawkeyesports.com
IOWA CITY, Iowa — The University of Iowa soccer team is looking for a bounce back weekend with Big Ten Conference play beginning Friday at Maryland.
 
The Hawkeyes were unbeaten at 4-0-1 heading into their final weekend of nonconference play before suffering a pair of setbacks — a 2-1 Iowa Corn Cy-Hawk Series loss at Iowa State and a 1-0 defeat at Wyoming on a first-half penalty kick.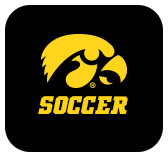 "It was a hit in the face that we are not invincible, especially coming into Big Ten play," said redshirt junior Kaleigh Haus.  "(Big Ten games) are completely different when you play great team after great team. We need to finish and give more."
 
Finishing has been Iowa's focus this week. The Hawkeyes had 16 shots (and 15 corner kicks) in Ames, but only mustered one goal.  Two days later, Iowa had 14 shots, but was shutout for the second time this season.
 
"We know we're a team that likes the ball and can keep possession against a lot of opponents," said Iowa head coach Dave DiIanni. "We can create opportunities both in possession and transition, but we're not consistent enough in the box with the chances we're creating."
 
Iowa has scored nine goals in seven games with six different Hawkeyes finding the back of the next.  Iowa has 92 shots — 30 more than its opponents — but only 51.1 percent have been on goal.
 
"Our sole purpose (this week) has been finishing, getting chances, and making sure we put them away," said junior Natalie Winters, who is leading the team with three goals and 27 shots. "We need to have confidence and make sure we know we can do it."
 
A year ago, Iowa won four games in Big Ten play, finishing 4-5-2 to claim the final spot for the Big Ten Tournament.  The Hawkeyes know the intensity and margin for error increases with league play beginning.
 
"The returners know it gets amped up an extra step from nonconference games," said Winters. "We need to make an impact and know that we can compete with these teams and have our confidence high."
 
It starts with learning from their first two setbacks of the 2018 season.
 
"We learned we can play a lot of good soccer and dominate possession and on the score sheet in terms of shots," said DiIanni. "If you don't capitalize on your opportunities, give away bad balls on the back on set pieces and counter situations then you're not going to win any games.
 
"We have to take advantage of what we did well and learn from what we didn't.  The Big Ten is going to be much more difficult on punishing you on your mistakes."
 
The Hawkeyes face Maryland on Friday at 6 p.m. (CT) in College Park before heading to Piscataway, New Jersey, for its first ever road trip to Rutgers on Sunday at noon.
 
"Coming off a tough weekend, we want to come out with a lot of energy and keep our mentality up," said Winters. "We need to not worry about it, move on, and figure out a way to come away with four points (two victories)."
 
Both games can be seen on BTN Plus on BTN2Go — a paid subscription service.