Hawkeye Fan Shop — A Black & Gold Store | Men's Team Results (PDF) | Women's Team Results (PDF) | Individual Results (PDF) | 24 Hawkeyes to Watch 2017-18
LINCOLN, Neb. — The University of Iowa men's and women's cross country teams finished second and third, respectively, at the Woody Greeno Invite on Saturday morning. Senior Andrea Shine won her second consecutive race, running the women's 6,000 meters in 21:15.1, while the men placed all five scorers in the top-25.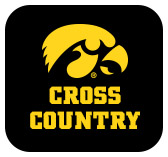 Senior Daniel Soto led the men for the second time this season, recording a third place finish and personal best 8,000 meters time in 24:45.5. Also in the top-10 was junior Nathan Mylenek, placing sixth (25:08.6).
 
QUOTING COACH HASENBANK
 
"Both teams competed pretty well because they executed well," head coach Randy Hasenbank said. "On the women's side, Andie [Shine] opened her senior campaign in style. It is hard to win a college race, and she went out and did it. She had another good summer and is very fit. I am excited for her. Megan Schott and Anna both competed well in the 2-3 spit with just seconds separating them.
 
"What we need to work on is the gaps. We will close that up over time, because a lot of new faces just ran their first [6,000-meter race]. By the end of the season, they will be ready to race the [6,000 meters]."
 
"Dan Soto competed very well with some elite talent up front, including an Olympian. He is fit and confident. Nate ran a smart race today and is getting back to form.  Overall, the gaps were not bad, still work to do. Bailey, Karson and Ian, all ran solid in the middle of the lineup."
 
"I thought Noah Healy ran a great race today and will add quality depth in the middle of the lineup. He and Jeff Roberts both went home over the summer and reinvented themselves, and I think they have tremendous upside, just need to get fit and earn opportunities. Brandon Cooley is a guy that had a very good race,as well. We need him to continue to step up. He's very talented and very capable. They will contribute."
 
"Overall, we had a solid day, not a great day, but we are training well. We have good leadership and a motivated group."
NOTABLES
The men's team recorded wins over USTFCCCA Midwest Regionally ranked No. 9 Nebraska and No. 11 North Dakota State.
On the women's side, the Hawkeyes outran regionally ranked No. 15 North Dakota State, who placed fourth.
Brandon Cooley, Bailey Hesse-Withbroe, and Noah Healy round out the scoring positions for the men in 12th (25:33.3), 22nd (25:47.0), and 25th (25:49.6), respectively.
Healy's time broke his personal record in the 8,000 meters.
Shine's win was followed by scores from four Hawkeye newcomers, including Megan Schott in 13th (22:03.1), Anna Hostetler in 18th (22:10.5), Jessica McKee in 45th (23:05.1), and Kylie Latham in 47th (23:13.8).
Sophomore Wren Renquist beat her personal best in 24:31.3.
 
NEXT FOR THE HAWKEYES
The Hawkeyes head to South Bend, Indiana, to compete at the Notre Dame Invite on Friday, Sept. 28. 
FOLLOW THE HAWKEYES
For an inside look at the Iowa cross country program and to access exclusive coverage, "like" The University of Iowa Cross Country and Track & Field Facebook page and follow @Iowa XC T&F on Twitter.