24 Hawkeyes to Watch 2018-19 | Single Game Football Tickets | I-Club Events Page | Game Recap | Photo Gallery
By DARREN MILLER
hawkeyesports.com
 
IOWA CITY, Iowa —  It's one thing to make a conscious effort to start quickly, it's another thing to execute. The University of Iowa football team did both during a dominate 38-14 victory over Northern Iowa on Saturday inside Kinnick Stadium.
 
What developed on the Hawkeyes' way to a 3-0 nonconference record was their most impressive first half — at least statistically — since clobbering Ohio State last November.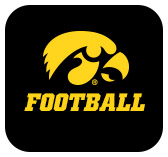 "We were looking to move the ball down the field and score points," said Iowa junior tight end Noah Fant, who had five catches for 99 yards and a touchdown, all in the first half. "I think we did a decent job in both those areas in this game."
 
Through the first two weeks of the season — both Iowa victories — the Hawkeyes scored a total of six points in the first half, thanks to second quarter field goals against Northern Illinois and Iowa State.
 
There was more breathing room Saturday.
 
Plenty of it.
 
Iowa scored on three of its first four possessions and the scoring drives grew progressively longer: 10 plays, 12, then 14. Only twice last season — versus North Texas and Iowa State — did the Hawkeyes have four scoring drives spanning 10-or-more plays. They did it three times in four possessions Saturday (and four times for the game).
 
A quick start makes for a footloose and fancy free group of Hawkeyes.
 
"It allows us to play loose and free and not worry about, 'Oh man, we have to score on this drive,'" said Iowa quarterback Nate Stanley, who completed 23-of-28 passes for 309 yards. "Being able to start fast allows us to keep that confidence going and build throughout the whole game."
 
Want to give your defense a breather? Hold the ball 12-minutes, 11-seconds like the Hawkeyes did in the first quarter. By halftime, Northern Iowa ran 20 plays for 20 yards with a sack and an interception mixed in.
 
"(Having a big lead) makes them one-dimensional, so as a defensive line, it's fun," said Iowa defensive end Parker Hesse. "You get to pin your ears back and work on rushing the passer."
 
On this night in front of another sellout crowd of 69,250 inside Kinnick Stadium, Iowa's team win included an extra helping of team offense.
 
In its first two drives, six plays by the Hawkeyes went for eight-or-more yards. There was a 43-yard pass completion from Stanley to Fant. When Fant caught a 5-yard touchdown pass from Stanley with 6:07 left in the first quarter, it capped Iowa's longest scoring drive of the season — 92 yards. More importantly for the Hawkeyes, it was the first touchdown in the first half and their first points in a first quarter this season.
 
In the first quarter Iowa had 26 plays, 191 yards, a fourth down conversion and nine gains of eight-or-more yards. After the first three possessions (that extended two plays into the second quarter), Stanley was 9-of-11 passing for 133 yards and a touchdown; the ground game racked up 68 yards and a touchdown.  
 
Things didn't slow the rest of the second quarter. Two plays and 51 seconds in, running back Mekhi Sargent capped a 12-play drive with 2-yard touchdown run, bowling over Northern Iowa's Xavior Williams in the process.
 
After establishing a 21-0 lead in the second quarter, Iowa had run 42 plays compared to 16 by Northern Iowa. The yardage advantage was 268-20. It was the most points Iowa scored in a first half since tacking on 31 against Ohio State a year ago.
 
How impressive were the first 30 minutes? Iowa had 316 yards Saturday, compared to 148 in the first half against Northern Illinois and 73 against Iowa State. Iowa's yardage total at halftime Saturday was just 36 yards fewer than its previous season-high for a game (352 versus Northern Illinois).
 
"We came into the first half ready to go and set a good tempo offensively," Iowa head coach Kirk Ferentz said. "It's a process, too. You hope to keep practicing well, building some equity, and then hope it shows up on the game film."
 
The Hawkeyes open Big Ten play Sept. 22 against defending West Division champion Wisconsin. Kickoff is set for 7:30 p.m. (CT).