24 Hawkeyes to Watch 2018-19 | Single Game Football Tickets | I-Club Events Page | Hawk Talk Monthly — September
By RICK BROWN
hawkeyesports.com
IOWA CITY , Iowa — Two games, one catch. Not exactly Nick Easley numbers. But Saturday was a much different story.
 
The University of Iowa senior wide receiver had 10 catches for 103 yards, both career highs, in a 38-14 victory over Northern Iowa.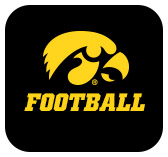 "Certainly it feels good to get out there and move the ball on offense, just making plays for us," Easley said.
 
Not 100 percent healthy when the season started, Easley is back in fine form and back in the flow of the offense.
 
"It's funny how things get going, or don't get going, in our passing game," Iowa head coach Kirk Ferentz said. "Our passing attack, in general, was kind of sporadic. At least this was a little more representative of what we're trying to be.
 
"Nick's a good football player, so it was a matter of time until he started showing some good things. It was great to see him running around out there."
 
Easley turned in the biggest day for an Iowa receiver since Keenan Davis had 10 catches for 129 yards and a touchdown against Pittsburgh in 2011.
 
Easley was a security blanket of sorts for Iowa quarterback Nathan Stanley last season. Stanley, who completed 23-of-28 passes for 309 yards, two touchdowns, and one interception Saturday, was glad to have him back in the flow of the offense.
 
"It's huge, and it gives him some confidence," Stanley said. "If somebody deserves to have a game like he did today, it's him. He puts in a tremendous amount of time. He's a great leader on the practice field, in the position room, and weight room. He does everything right. I'm happy he had the performance he had (Saturday)."
 
Easley's record night got off to a rocky start. He got drilled on a crossing pattern early in the game.
 
"It's part of the game, part of being a slot receiver and working that middle area," Easley said. "You're going to take some shots sometimes."
 
Easley caught a pass on the next play and was off and running. The same can be said for Iowa's passing game, searching for some rhythm and confidence heading into the start of the Big Ten season Saturday against Wisconsin at Kinnick Stadium.
 
"I feel we took a step in the right direction," Easley said.
 
A lifelong Hawkeye fan growing up in Newton, Iowa, Easley walked on last season after earning All-America honors at Iowa Western Community College in Council Bluffs, Iowa.
 
He caught at least one pass in all 13 games last season, and finished with 51 catches for 530 yards and four touchdowns. Twice, against Iowa State and Illinois, he had seven catches. His 77 receiving yards in the season opener against Wyoming was his previous career best. Now he has new standards to shoot for.
 
This season's opener against Northern Illinois is the only game he has been shutout at Iowa. He didn't want to blame an injury for that.
 
"I feel good right now," Easley said. "That's what we're focused on moving forward."
 
Iowa's single-game record for catches in a game is 13 by Kevin Kasper in 1999 at Ohio State. The Kinnick Stadium record is 14, by Dan Bitson of Tulsa in 1998. Easley looked like he had a chance at those records when he caught a 14-yard touchdown pass on a fade route with seven minutes remaining in the third quarter.
 
"That was a good ball by Nate," Easley said. "It was a good check at the line of scrimmage.  A big-time play."
 
That was Easley's 10th catch of the game, one that put him over 100 yards for the first time in his Iowa career. It was also his last catch.
 
"It's good any time we can go out there and execute like that," Easley said.