IOWA CITY, Iowa – – University of Iowa letterman Tom Moore, who has enjoyed a successful coaching career in college football and the NFL, will serve as honorary captain as Iowa hosts Wisconsin at Kinnick Stadium (7:35 p.m., BTN) Saturday.
 
Moore lettered for the Hawkeyes in 1959 and 1960 as a quarterback and placekicker while earning a bachelor's degree in history. Iowa posted a 13-5 record in those two seasons, including an 8-1 mark in 1960. As a kicker, Moore connected on five field goals and 40 PATs in two seasons.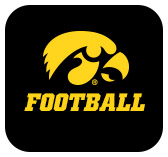 Moore served as a graduate assistant coach at Iowa in 1961 and 1962 before serving two years in the United State Army, where he also coached football.  Moore coached on the college level at Dayton (1965-68), Wake Forest (1969), Georgia Tech (1970-71), and Minnesota (1972-73, 1975-76).
 
Moore joined the NFL with the Pittsburgh Steelers, serving as receivers coach (1977-82) and offensive coordinator (1983-89). He later coached with Minnesota (assistant head coach, 1990-93), Detroit (offensive coordinator, 1994-96), New Orleans (running backs, 1997), Indianapolis (offensive coordinator, 1998-2008). He served as the Colts' senior offensive coordinator in 2009 and was senior offensive assistant and offensive consultant in 2010.
 
Moore was offensive consultant with the New York Jets in 2011 and Tennessee in 2012.  He was assistant head coach and offensive consultant with Arizona from 2013-17.
 
Moore earned two Super Bowl championships while in Pittsburgh (XIII and XIV) and another with Indianapolis (XLI). Moore helped four teams (1978, 1979, 2006, 2009) earn AFC championships. Moore served under Chuck Noll with the Steelers and Tony Dungy in Indianapolis, where he oversaw the development of quarterback Peyton Manning.
 
Moore was inducted into the Pennsylvania Sports Hall of Fame in 2014 in recognition of his 13 seasons with the Steelers. He was recognized as part of the 2015 class for the Paul "Dr. Z" Zimmerman Award by the Pro Football Writers Association, recognizing lifetime achievements as an assistant coach in the NFL.
 
Moore will accompany the Iowa captains to midfield for Saturday's pregame coin toss.  He will also be with the Hawkeyes in the locker room before and after the game.