By STEVE ROE
hawkeysports.com
IOWA CITY, Iowa -– With four games in the books and an open week on the schedule, University of Iowa head coach Kirk Ferentz says his team has made progress in the first month of the season, but can still improve as the schedule heads into October.
"What a great atmosphere Saturday night, the stadium was electric all night," said Ferentz, in speaking of Iowa's third straight sellout in Kinnick Stadium. "Our fans were great, they provided great support for our team and encourage our team. We really appreciate that."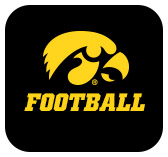 After opening the season with three straight wins, the Hawkeyes fell to No. 18 Wisconsin on Saturday in Kinnick Stadium, 28-17. Iowa led throughout much of the second half, only to see the see the Badgers rally with two touchdowns in the final minute. Wisconsin scored 14 points following three Iowa turnovers.
"They are a veteran team that knows how to win games and that was the difference at the end of the day," said Ferentz. "Both offenses did some good things; it comes down to minimizing mistakes in certain categories and cashing in on opportunities when they are there and (Wisconsin) made a few more plays that we did."
After seeing his team fall behind 14-10 in the third quarter, junior quarterback Nate Stanley led the Hawkeyes on an eight-play, 75-yard drive, connecting with junior tight end Noah Fant on a 1-yard strike to give Iowa the lead. Stanley completed 14-of-23 attempts for 256 yards and two touchdowns. He connected with Fant on a 20-yard score to tie the game in the second quarter.
"The offensive improvement goes back to the fourth quarter of the Iowa State game," said Ferentz. "I thought we did good things offensively to close that game, then followed it up with a good week of practice and took a step forward against Northern Iowa. Saturday night was probably the best we have played offensively.
"Nate has looked more comfortable the last two weeks, he has practiced well and looks more relaxed. Getting Ivory Kelly-Martin back was a plus; it gives us more balance in the backfield. I'm encouraged. We have a lot of young guys on the offensive side of the ball. I'm encouraged with the progress we have shown over the first four weeks. Hopefully we continue to show growth moving forward."
Iowa's defense held Wisconsin to 14 points through the first 59 minutes of the contest before the Badgers broke through. Two of the Wisconsin scoring drives covered a total of 47 yards following Iowa turnovers. 
"Wisconsin had everybody back on its offensive front and the running back is extremely impressive," said Ferentz. "They are physical, and execute well. We had our hands full, but once we settled down, I thought we played well on defense and showed growth and progress. At the end it's a tough loss. Hopefully we will benefit and  be a better team as a result of this if we handle it the right way moving forward."
Following the open week, Iowa faces road tests at Minnesota and Indiana before its lone home game in October against Maryland (Oct. 20, Homecoming, 11 a.m. CT). Then it's back on the road for trips to Penn State and Purdue.
"September has always been an important month for us, in how we develop and progress," said Ferentz. "We have veteran guys, but we also have younger guys who are showing growth. Now it's about trying to streamline things, we'll encourage everyone to keep improving. We have a number of young guys who haven't played, or played much, but they probably will be playing down the stretch. If we can get them to take a big step this week, it will be beneficial to our team. We'll need everybody for this next eight-week block."
Iowa travels to Minnesota for the annual battle for Floyd of Rosedale Saturday, Oct. 6.  Game time is either 3:30 or 4 p.m. (CT).