Hawk Talk Month – September | Hawkeye Fan Shop — A Black & Gold Store | 24 Hawkeyes to Watch | Fight For Iowa
THE SCENE 
The University of Iowa swimming and diving team opens the 2018-19 season with a dual meet at Big Ten foe Michigan State on Friday at McCaffree Pool. Competition will take place at 9 a.m. on Friday morning. The following day the Hawkeyes will have their anual Intrasquad meet at the Campus Recreation and Wellness Center. Admission is free.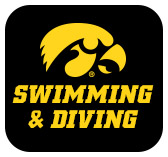 FOLLOW THE HAWKEYES
For an inside look at the Iowa swimming and diving program and access to exclusive coverage, "like" Iowa Swimming and Diving on Facebook and follow @IowaSwimDive on Twitter and @hawkeyeswimdive on Instagram.
HAWKEYES RETURN EXPERIENCED GROUP
The Iowa men return 22 letterwinners and adds seven newcomers for the 2018-19 season. The Hawkeyes return four NCAA qualifiers and top performers Jack Smith, Matt Kamin, Joe Myhre, and Will Scott. Sophomore Daniel Swanepoel currently sits third in Iowa's record books in the 100 breaststroke with a time of 53.74.
    The Hawkeye women bring back 19 letterwinners this season, including one NCAA qualifier, and add five newcomers to the roster.  Junior Hannah Burvill headlines the returnees after qualifying for the NCAA Championships two years in a row; sophomore Kelsey Drake also ranks highly among school records in three events and has the second-best time in the 100 fly. 
MEN'S TOP FREESTYLE RETURNS
Iowa has a strong foundation returning in the freestyle events led by senior Jack Smith. In the 2017-18 season, Smith qualified for the NCAA Championships in three events – – 100 free, 200-free relay, and 400-free relay. Smith swam a lifetime best and school record in the 100 free (42.71). Juniors Will Scott and Joe Myhre also swam lifetime bests and were both members of the All-America 200-free relay (1:17.50) and 400-free relay (2:51.58). Myhre swam a personal best in the 50 free (19.84) while Scott swam a personal best 100 free (43.72). Senior Matt Kamin also swam to two personal bests in the 50 free (19.84) and 100 free (43.68). 
 
RETURNING NCAA QUALIFIERS  
Iowa returns seven NCAA qualifiers from a season ago. Four  members of the men's 200 and 400-free relays return, including juniors Will Scott and Joe Myhre, and seniors Jack Smith and Matt Kamin. They finished 16th overall in the 200-free relay (1:17.50) to earn All-America honors and placed 23rd in the 400-free relay (2:51.58). 
    The women also return two NCAA qualifiers in juniors Hannah Burvill and divers Thelma Strandberg and Jayah Mathews. A two-time NCAA Championships qualifier, Strandberg comes off the 2017-18 season with the third-best platform performance in school history (248.80).  The Norway native placed 35th at the NCAA Championships with a dive of 221.90. Burvill placed 31st in the 200 free (1:45.70) and 37th in the 100 free with a school record of 48.94, while Mathews placed 47th off the 1-meter.
HAWKEYE NEWCOMERS
Seven newcomers are set to join the men's program this year, including Jackson Allmon, Mateusz Arndt, Caleb Babb, Dolan Craine, Anze Fers Erzen, Andrew Fierke, and Matjaz Rozman. The seven freshmen come from three different states and two different countries, including Iowa (2), Illinois (1), Minnesota (1), Poland (1), and Slovenia (2).
    The women's program welcomes five newcomers for the 2018-19 season, including Jolynn Harris, Taylor Hartley, Kelsey Maher, Sam Tamborski, and Alleyna Thomas. This year's freshmen class comes from Iowa (4) and Colorado (1). 
SWIMMING ACROSS THE POND
This year's Hawkeye squad features 11 athletes from eight countries outside of the United States.  The men's team features freshman Anze Fers Erzen and Matjaz Rozman (Slovenia), freshman Mateusz Arndt and Senior Michal Brzus (Poland), sophomore Jonatan Posligua (Ecuador), sophomore Daniel Swanepoel (South Africa), senior Kenneth Mende (Germany), and senior Jack Smith (England). 
    The women's squad features sophomore Jayah Mathews (Austrailia), junior Hannah Burvill (England), and junior Thelma Strandberg(Norway). 
HOSTING B1Gs
The University of Iowa will serve as the host institution for the men's 2019 Big Ten Championships. This will be the first time Iowa has hosted the meet since 2015. The Hawkeyes will also host the 2020 women's Big Ten Championships and the 2021 men's NCAA Championships.
IOWA SWIMMING AND DIVING HISTORY
Iowa was one of the first schools in the nation to compete on a collegiate level, and in 1937, the Hawkeyes competed at the first NCAA Championships.  From 1937 to 1960, Iowa placed in the NCAA top 10 a total of 18 times, crowning nine NCAA and 22 Big Ten champions.
COACHING STAFF
Iowa welcomes back assistant coaches Richard Salhus, Roman Trussov, and Ashley Dell. They also welcome first year assistant coach Sarah Stockwell-Gregson. She is coming off a seven year stint at Virginia Tech where she was the top assistant (2015-18).  Richard Salhus will start his third season with the Hawkeyes this fall after transitioning from the Iowa Flyers Swim Club in 2015. Ashley Dell starts her second season this fall after she came to the program from two stints with George Washington (2011-14) and Southern Methodist (2014-17). Trussov was a two-time honorable-mention All-American as a senior at Iowa and is starting his third year of coaching this fall. He is also the school's record holder in the 100 breast and 200 breast.