24 Hawkeyes to Watch 2018-19 | Hawk Talk Monthly — September
IOWA CITY, Iowa — The University of Iowa soccer team shrugged off its slow Big Ten Conference start to pick up four key points in the league standings.
 
After being on the wrong end of a 4-0 loss at Maryland in the Big Ten opener on Sept. 14 and a 2-1 double overtime defeat at Rutgers on Sept. 16, the Hawkeyes bounced back in a big way at the Iowa Soccer Complex.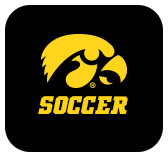 Iowa fell behind early before tying the game late to earn a draw against Purdue, before securing its first league victory with a 3-1 triumph over Indiana.  The results kept Iowa unbeaten at home at 5-0-2 this season.
 
"It was extremely important to get those points," said senior captain Morgan Kemerling. "It shows everyone else in the Big Ten that we're here and we can compete as well. We're not someone to look down upon.
 
"You can start off a little shaky in the Big Ten and then pick it up in the end and you're right back in (the Big Ten Tournament race) with everyone else. Everyone beats everyone in this conference, so to be able to get those points, we're right back in the mix of everything."
 
Now the Hawkeyes are trying to carry that momentum on the road, a place where Iowa is winless in four road games this season. Iowa plays Ohio State on Thursday before squaring off against No. 20 Penn State on Sunday.
 
"I have been impressed with our team and their resiliency and commitment to play as a group and compete," said Iowa head coach Dave DiIanni. "We have been playing good soccer, but haven't been getting the results.
 
"We have played well enough to win and sometimes you get the result and sometimes you play well and don't get the result.  This is a conference where you have to play 90 minutes, compete, and hope for the best."
 
Iowa scored three times against the Hoosiers after scoring a combined three goals during its four-game losing streak. Freshman Hailey Rydberg scored her first career goal, senior Rose Ripslinger netted the game-winner, and junior Natalie Winters added her team-leading fifth strike.
 
"Goal scorers love to score and get confidence," said DiIanni. "We're creating enough opportunities to score goals. It has been good to see more than one goal go in the back of the net."
 
Three of Iowa's six wins all-time over Ohio State have come in Columbus with their last victory coming in 2014.  Iowa has never won in Happy Valley.
 
"We have to use (the Indiana game) as a push and momentum to carry us through Ohio State and Penn State," said Kemerling. "We haven't been good on the road, but we need to find our groove again and play on."
 
One thing Iowa finally has in its favor is health. The team will be at full strength for the first time this season with Olivia Fiegel, Devin Burns, and Claire Graves all back after missing parts of the first month and a half because of injury.
 
"We have continued getting healthy," said DiIanni. "This is as healthy as we have been all season."
 
Thursday's game will begin at 6 p.m. (CT) from Jesse Owens Memorial Stadium and it will be streamed live on BTN Plus. Sunday's contest will start at noon from Jeffrey Field and it will be available via Lion Vision, free of charge.