24 Hawkeyes to Watch 2018-19 | I-Club Events Page | Hawk Talk Monthly — June
Editor's Note: To view exclusive video highlights of this Fight for Iowa Coca-Cola moment, purchase a University of Iowa Hawkeye 16 ounce Coca-Cola can for sale throughout Eastern Iowa, download the Hawkeye Sports App, and select the Xtream HawkVision feature throughout the countdown.
By RICK BROWN
hawkeyesports.com
 
IOWA CITY, Iowa — Most of Kinnick Stadium was well into celebration mode when last season's game against No. 3 Ohio State rolled into the fourth quarter.  The University of Iowa had a commanding 38-17 lead over the Buckeyes.
 
But you know who wasn't celebrating? Iowa head coach Kirk Ferentz.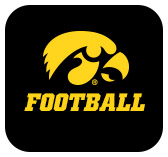 "They're so explosive, and have so many explosive athletes, that even in the fourth quarter it's like, 'This isn't over,'" Ferentz said. "Let's keep playing because you can never relax against a team that talented."
 
It wasn't until Toren Young's 6-yard touchdown run, giving the Hawkeyes a 55-24 lead with 1:43 remaining, that Ferentz joined the party.
 
"Once Toren ran that one in there, it was, 'OK, I think we're in good shape,'" Ferentz said.
 
The Hawkeyes recorded their most lopsided victory ever over Ohio State, gave head coach Urban Meyer his worst defeat in Columbus, and threw the college football playoffs into a tizzy.
 
It started with Amani Hooker's pick six on the first play of the game. Still to come were five Nate Stanley touchdown passes, three Josh Jackson interceptions, a successful fake field goal, and a play that took Ferentz back to his NFL days as an assistant coach with the Cleveland Browns.
 
"After a game like that you think, 'How did that happen?'" Ferentz said. "We made some good plays in that game."
 
When Ferentz traveled the state during the annual I-Club Tour this spring, the Ohio State game was the No. 1 topic of conversation.
 
"There are a lot of Iowa fans that enjoyed that one," Ferentz said. "We also made a lot of people happy outside the state. A lot of Michigan fans and Alabama fans, too."
 
Ohio State's playoff spot ultimately went to the Crimson Tide, thanks to Iowa's stunning one-sided victory. Alabama made the most of that opportunity, winning the national championship.
 
"We couldn't have done much better, and they weren't able to respond," Ferentz said. "It was a game for awhile, but our guys just kept playing."
 
Night games at Kinnick Stadium bring an electric atmosphere, and Hooker provided the first jolt when he honed in on J.T. Barrett's first pass of the game and took it 30 yards to the house. Barrett had been intercepted just once in the previous eight games. That play provided the Hawkeyes confidence.
 
"It didn't hurt," Ferentz said.
 
It was a 17-17 game late in the second quarter, but Stanley found tight end Noah Fant for 25- and 3-yard touchdown passes in the last 3:06. Ferentz was still on edge.
 
"If you had a preference, you would rather have them playing from behind," Ferentz said. "They're not used to that. Even then, there's no assurance you're going to win."
 
The back-to-back Fant touchdowns began a run of 31 unanswered points. Iowa had scored at least 31 points against Ohio State just three times in the previous 64 games in the series, and never more than 35.
 
The end of that 31-0 run provided two of the most memorable plays of the game. With Iowa leading 31-17 late in the third quarter and facing a fourth-and-3 from the Ohio State 20, Miguel Recinos lined up for what would be a 37-yard field goal.
 
But Recinos went in motion, holder Colten Rastetter took the snap from Tyler Kluver, who ran a route upfield. Rastetter found Kluver, who made the reception, but stumbled, costing him a touchdown. Iowa had a first-and-goal from the 2.
  
"That's why we called it," Ferentz said. "I'm thinking, 'These guys have too much firepower. Let's see if we can't make this thing a little more than just a field goal. Maybe make their hill a little steeper to climb."
 
That happened on the next play when Stanley, with Ohio State's Sam Hubbard wrapped around his left leg, fired a bullet to T.J. Hockenson in the back of the end zone.
 
"That was an impressive play," Ferentz said. "When I was at Cleveland we had Vinny Testaverde, who was strong and had unbelievable leg strength. A defensive back hit Vinnie from behind but couldn't nudge him. Nathan showed good perseverance, awareness, and patience on that play."
 
Ferentz knows that beating Ohio State doesn't happen every day. Iowa had lost 13 of the previous 14 meetings in the series.
 
"I have 29 years of experience in the Big Ten, and six more (as an NFL assistant) looking at the draft board, and they have always had good, if not the best players," Ferentz said. "They have always had good coaching.
 
"My point is you have to be a fool to ever anticipate playing Ohio State and having a game that was "over' in the fourth quarter."
 
Starting in 2002, Ferentz felt his teams could compete with the Buckeyes.  Iowa lost at Ohio State in 2003, 19-10, but won at home the next season, 33-7. Ohio State dominated in 2005 and 2006, but the previous three games — all losses — had been competitive. That included a 27-24 overtime loss in Columbus in 2009, and a 20-17 loss at Kinnick Stadium in 2010 when Terelle Pryor converted a do-or-die fourth-and-10 play late in the contest.
 
"Pryor was the only guy in the country who could have made that play," Ferentz said.
 
In their previous meeting, in 2013 in Columbus, Iowa led at halftime but lost, 34-24.
 
"We have had good battles with them," Ferentz said. "For this one to pop through like it did, no one in the stadium expected it, including me. How could you?"