Hawk Talk Month – September | Hawkeye Fan Shop — A Black & Gold Store | 24 Hawkeyes to Watch | Fight For Iowa | Photo Gallery | Complete Results (PDF)
IOWA CITY, Iowa – The Black team dominated the annual University of Iowa swimming and diving Intrasquad meet in a 129-84 victory over the Gold team Saturday morning at the Campus Recreation and Wellness Center.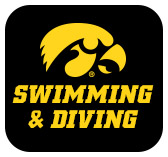 The Black team kicked off its winning run with victories in both the men's and women's 200-medley relays. The relay team of Hannah Burvill, Lexi Horner, Amy Lenderink, and Sarah Schemmel finished in a time of 1:47.26. The men's relay of Kenneth Mende, Daniel Swanepoel, Joe Myhre, and Jack Smith completed the relay in a time of 1:31.76.
 
The quartet of Smith, Myhre, Michael Tenney, and Steve Fiolic completed the black team's dominance with a victory in the 200-free relay (1:23.35) in the final event of the day.
 
Burvill kicked off the individual events with a win in the 200 freestyle with a time of 1:52.42, while freshman Mateusz Arndt had two individual victories in the 500 free (4:33.75) and 200 free (1:40.95).
 
Sophomore Kelsey Drake tallied two victories, touching first in the 100 fly (56.32) and 200 IM (2:07.39). Junior Michael Tenney also swam to two victories in the 100 fly (51.13) and 200 IM (1:52.59).
 
HEARING FROM HEAD COACH MARC LONG
"The Black and Gold Meet has always been a fun meet for us to get together and race. We raced last night against Michigan State, but the team was ready to compete against each other. It's great for them to get some more experience racing, especially since we've been training so hard."
 
UP NEXT
Four Hawkeye women will head to Dallas, Texas, to compete in the SMU Classic on Friday, Oct. 12 at 6:30 p.m. (CT).