Hawkeye Fan Shop — A Black & Gold Store | Hawk Talk Month – September
By BAILEY TURNER
hawkeyesports.com
IOWA CITY, Iowa — A year ago the University of Iowa men's tennis program reached new heights. The 2018-19 team is prepared to take the next step toward its goals this season.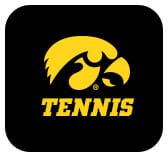 "There are a lot really good teams in the Big Ten," said Mellecker Family Head Men's Tennis Coach Ross Wilson. "Our goal every year is to finish in the top four of the conference and qualify for the NCAA Tournament. Over the years I believe we've shown, especially last year, that we can compete with anybody."
 
Fall competition for the student-athletes is an opportunity to get matches in against some of the best players from around the country and grow as a team prior to the start of team competition in January.
 
Five of Iowa's roster of nine — Will Davies, Piotr Smietana, Kareem Allaf, Joe Tyler, and Jonas Larsen — will compete at the ITA All-American Championships held at the Michael D. Case Tennis Center on the campus of the University of Tulsa in Oklahoma.
 
The pre-qualifier began Saturday with Davies, Larsen, Smietana, and Tyler competing. Allaf will begin competition on Monday in both the qualifying singles and doubles with doubles partner Larsen. The duo enter tournament play ranked 35th nationally.
 
Davies registered the highest finish for the Hawkeyes at the Milwaukee Tennis Classic last weekend. The sophomore advanced to the quarterfinals of the singles main draw by winning three matches in straight sets, including knocking off Virginia Tech's fifth-seeded player, who is ranked No. 101 nationally.
 
"Being a sophomore this year I feel more comfortable, I'm playing with a lot more confidence, and I believe in myself," said Davies. "Last weekend, I played with some good stuff and played well." 
 
Smietana returns for his sophomore campaign after winning 10 singles matches over the course of his rookie season at the top three positions. Smietana paired with classmate Davies in doubles last season and won 17 matches last spring, a total that ranks third all-time in program history.
 
Allaf, who won nine straight singles matches to end last season, is off to a solid start this fall. The redshirt junior recorded three singles wins in Milwaukee. Allaf advanced to the Round of 16 before losing a third set tiebreaker and also won a consolation singles match.
 
The Hawkeyes have been training hard this month, which Allaf believes was key to last weekend's success.
 
"The physical preparation over the last couple weeks is what helped me last weekend," Allaf said.
 
The ITA All-American Championships will be Tyler's first action this fall after a solid freshman campaign, where he posted the second most Big Ten singles victories on the team (6). Tyler and Davies each posted singles wins in last year's pre-qualifier, but duo is looking for improved results this time around.
 
 
"We have a lot of confidence going into this tournament," said Davies. "Any player in college tennis is beatable, so we're going to take it match by match and continue to improve with each step to achieve our team goals this season."
 
For tournament updates follow @ITA_Tennis and @IowaMensTennis on Twitter.