Hawkeye Fan Shop — A Black & Gold Store | Hawk Talk Month – September | 24 Hawkeyes to Watch 2018-19 | Box Score (PDF) | Boxscore
EVANSTON, Illinois, — The University of Iowa volleyball team (10-5, 2-2 Big Ten) defeated Northwestern (10-6, 0-4 Big Ten) at Evanston Township High School on Sunday afternoon.
Iowa's victory over Northwestern improves Iowa's record in five set matches to 2-1.
HEAR FROM COACH SHYMANSKY        
"This was a great job by Taylor Louis and coming home, she had her own personal fan section. We appreciate fans coming out and supporting us, especially on the road. We talked about how our team keeps developing and how we took set two in a come-from-behind victory. We then really took it to them in the third set, but then we were in the battle for the fourth and fifth set. It was a great team effort and it was scrappy game all the way until the end."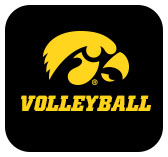 HOW IT HAPPENED
SET 1 (22-25) | Iowa allowed a 4-1 Northwestern run to open the first set and then fell behind 5-10 before closing the gap with a flurry of kills by seniors Reghan Coyle and Taylor Louis. Behind Louis' five kills in the set, Iowa tied the score at 22 points before surrendering the first set. Defensively, Iowa tallied six blocks in the set and sophomore Brie Orr garnered 11 assists.
SET 2 (28-26) | The Hawkeyes were in for a fight in the second set. Iowa opened a 10-8 lead after a challenge went in favor of the Hawkeyes. A seven-point spurt with kills by junior Cali Hoye, freshman Courtney Buzzerio, and Louis gave the Hawkeyes their biggest lead of the set at 19-13, but Northwestern answered and tied the set at 25. Iowa prevailed in the second set with a block by Orr and freshman Sarah Wing and an attack error by Northwestern.
SET 3 (25-11) | Iowa took control in the third set. The Hawkeyes fell behind 0-2, but that is all the room Iowa allowed the Wildcats. Iowa forced two early timeouts by Northwestern and a rapid fire attack and suffocating defense gave Iowa 11-7 lead. The Hawkeyes saw contributions from everybody as the team went on a 14-4 run to take the third set and momentum heading into the fourth.
SET 4 (23-25) | Iowa's momentum carried over into the fourth set, but only until the team's 10th point. The Wildcats fought back and took the lead with an ace at 10-11 and held their slim lead until an Iowa timeout. After the timeout, Iowa responded with back-to-back kills by Louis and Coyle to force a Northwestern timeout. Iowa and Northwestern traded points until two kills by the Wildcats forced the decisive set.
SET 5 (15-12) | In the deciding set of the afternoon, the Hawkeyes started strong with a 4-1 run to force a Northwestern timeout. Iowa continued to work its lead, but a Wildcat push gave them the lead at 9-10. Louis responded in front of her friends and family in the stands with two consecutive kills and a Hawkeye lead as she recorded the game-winning kill.
NOTABLES
·       Iowa tallied a season-high 23 total blocks.
·       Senior Reghan Coyle set a season-high with nine total blocks.
UP NEXT
Iowa has a quick turnaround, traveling to Nebraska on Wednesday at 7 p.m. (CT) for a mid-week matchup. The game will be broadcast live on the Big Ten Network.