24 Hawkeyes to Watch 2018-19 | Hawk Talk Monthly — October 2018 | I-Club Events Page | Single Game Football Tickets | VIDEO — Dillon Doyle | Football Freshman — Henry Geil | Football Freshman — Julius Brents | Football Freshman — Riley Moss
By DARREN MILLER
hawkeyesports.com
IOWA CITY, Iowa — Dillon Doyle welcomes any pressure that comes with being a University of Iowa football student-athlete. 
 
If the weight of following his strength and conditioning coach father into the Hawkeye program isn't enough for the true freshman linebacker, he also wears jersey 43, the same number worn by two recent Iowa-grown linebackers who went on to the NFL.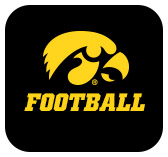 "It is cool I get to wear 43," Doyle said. "I view it as an honor, knowing Pat Angerer and Josey Jewell; they are hard-working guys from Iowa. It is a way to represent the state of Iowa and I am lucky to be able to do that."
 
Angerer prepped at Bettendorf (Iowa) High School before lettering three times at Iowa from 2006-09. He played four seasons with the Indianapolis Colts. Jewell, from Decorah, Iowa, lettered four times at Iowa from 2014-17. This season, he has 12 tackles in four games for the Denver Broncos.
 
A health and human physiology major, the 6-foot-3, 227-pound Doyle was named first-team all-district as a junior and senior at Iowa City West High School. He was finalist for Gatorade Player of the Year and named to the All-Iowa Elite team.
 
Doyle enrolled at Iowa in the spring, allowing for a jump on academics while benefitting from spring drills.
 
"I wanted to get ahead on my degree and get experience in spring practice," Doyle said. "That has paid off; I had 15 practices to get better and work on the inside linebacker position. That benefitted me a lot going into fall camp."
 
Doyle grew up around the Hawkeye program. His father, Chris, has been strength and conditioning coach for Iowa's football team since before Dillon was born. Older brother Declan is an offensive student assistant for the Hawkeyes. Another brother, Donovan, wrestles for Harvard.
 
"It is a different feeling because now I'm not looking up to the (Hawkeyes as a fan)," Doyle said. "They are my brothers, so it is a lot more fun being involved in the process of opponent prep and coming to practice every day and working hard with them."
 
He sees Declan as a resource.
 
"He has a good football mind, so he teaches me what he is seeing on the offensive side of the ball and I talk to him about what I see on the defensive side of the ball," Dillon said. "We talk about what we do to counter each other from a strategic perspective, so that's pretty cool."
 
Throughout his life, Doyle said, his father has been his teacher. Now he is one of his coaches.
 
"He is preparing me to play, like any other player," Doyle said.
 
Iowa head coach Kirk Ferentz, who assigned the No. 43 jersey, says everything Doyle does, he does in quality fashion.
 
"He had a great semester academically, same thing on the football field and with training," Ferentz said. "He has grown up with it and he appears to be comfortable in this environment. He works hard and takes great pride in what he does. Like all young guys, he is learning as he goes: he makes mistakes, learns from them, and if he does make a mistake, he doesn't make it twice."
 
Doyle saw action in Iowa's season opening 33-7 victory over Northern Illinois on Sept. 1. Ferentz said the Hawkeyes would like to redshirt Doyle this season.
 
"He fits in well," Ferentz said. "He is in the category where we could elevate him if we need to and he has done well enough where he could do that."
 
Doyle is taking a week-by-week, practice-by-practice, rep-by-rep approach to the rest of the season. He cherished the early playing time, it is something he dreamed of for a long time.
 
"After so many years in the stands at Kinnick, it was definitely cool to finally be able to cross the white line and look up and see everybody looking down at you," Doyle said. "I'm looking forward to doing it again."
 
Iowa takes on Minnesota on Oct. 6 with the traveling trophy Floyd of Rosedale at stake. Kickoff is set for 2:30 p.m. (CT) from TCF Bank Stadium in Minneapolis.