24 Hawkeyes to Watch 2018-19 | Hawk Talk Monthly — October 2018 | Single Game Football Tickets | I-Club Events Page | RECAP, PHOTOS, STATS | Football Freshman — Riley Moss
By DARREN MILLER
hawkeyesports.com
MINNEAPOLIS — Riley Moss knew it was coming. Jake Gervase, his roommate at the team hotel, told him as much on the eve of Moss's first collegiate start at right cornerback.
 
Be prepared for everything but a maroon and gold kitchen sink.
 
Making his first start since playing for Ankeny (Iowa) Centennial High School less than a year ago in a Class 4A state semifinal, the 6-foot, 185-pound Moss intercepted two passes and helped the University of Iowa football team retain the traveling trophy Floyd of Rosedale with a 48-31 victory over Minnesota inside TCF Bank Stadium.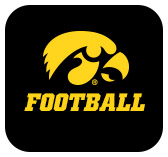 Moss wasn't alone in the getting-your-feet-really-wet category. Julius Brents, another true freshman, started at left corner. It is the first time since the 2000 season that the Hawkeyes started two true freshmen in the secondary (Benny Sapp and Bob Sanders).
 
"I could name a bunch of guys who jumped in there, but two guys of note are the two corners," Iowa head coach Kirk Ferentz said. "Julius did a good job out there and Riley as well. It was kind of representative of the game: both those guys got picked on a little bit, but they kept fighting and competing. They played better as the game went on."
 
As the game went on, Moss's confidence went up. Overall, he made five tackles; his first interception came in the second quarter in the end zone, his second interception came with 12 minutes left in the game and he returned it 36 yards to Minnesota's 9.
 
It is the first time at any level that Moss has intercepted two passes in the same game.
 
"You get to know a player's speed on the other side of the ball, you also get to know the quarterback and his intentions," Moss said. "Once you start getting the speed of the game down, you get confident and play faster."
 
Moss and Brents moved into the starting lineup because of injuries to junior Michael Ojemudia and sophomore Matt Hankins. Both were cleared to play against the Gophers; Ojemudia saw action in situational packages, but since Hankins was given the OK just the day before the game, he did not.
 
Instead, the Hawkeyes (4-1 overall, 1-1 Big Ten) improved their depth in the defensive secondary, making Saturday's 17-point victory over Minnesota a win, win, win situation.
 
"It builds confidence," Moss said.
 
Not just individual confidence, but confidence for the entire defense, that on this day intercepted four passes.
 
"I think I earned some trust with the defense, you know, next guys in," Moss said. "Eventually OJ and Matt may come back. It will work out well to be able to have twos (second unit) go in and play just as well as starters."
 
Gervase, now a seasoned senior, didn't notice uneasiness in Moss on Friday at the Hilton in downtown Minneapolis.
 
"Riley is kind of a guy who is pretty loose in a way," Gervase said. "He is confident in his abilities and he is kind of a goofy kid. He was ready to go and prepared and I couldn't sense any nerves; he went out and played well."
 
Moss will be the first to tell you that it wasn't a flawless introduction to being a starter in the Big Ten Conference. He described the first quarter as rough before he adjusted to the speed of the receivers and began to understand the intentions of the quarterback. Receptions were made early in the game at his expense, but Minnesota accounted for only 81 of its 234 passing yards in the second half.
 
Part of the reason was that Iowa's most recent Next Man In bought into a Next Play mentality.
 
"Bad things are going to happen," Moss said. "I knew they were going to come my way. I'm a true freshman, so I knew it was coming, but I bounced back, relied on my technique, and I think it worked out."
 
Moss responded well in any situation presented. Already a special teams stalwart, he provided step-for-step coverage on Minnesota's Chris Autman-Bell when the Gophers tried a fake punt/pass in the second quarter. The pass fell incomplete.
 
"As long as each player does his job it will work out," Moss said.
 
Even if that player is an 18-year old true freshman making his first career start.