Hawk Talk Monthly — October 2018 | 24 Hawkeyes to Watch 2018-19 | I-Club Events Page | Single Game Football Tickets | VIDEO — Kaevon Merriweather | Football Freshman — Dillon Doyle | Football Freshman — Henry Geil | Football Freshman — Julius Brents | Football Freshman — Riley Moss
By DARREN MILLER
hawkeyesports.com
IOWA CITY, Iowa — When it came to scholarship offers for Kaevon Merriweather of Belleville, Michigan, the sport of basketball outweighed football, 2:1.
 
Fortunately for the University of Iowa, Merriweather picked football and the Hawkeyes.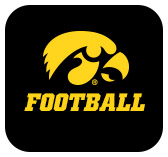 "The more I was recruited and learned about Iowa and what they do here, I was happy with football at that point," Merriweather said.
 
Merriweather didn't even have a recruiting profile on any football sites before Iowa offered a scholarship. His two basketball offers were from Western Michigan and Ferris State, the defending Division II national champion located in Big Rapids, Michigan.
 
The 6-foot-2, 195-pound Merriweather was exclusively a basketball player as a freshman and sophomore in high school, so he landed late on the radars of every college football program.
 
"His interest was more in basketball than football," Iowa head coach Kirk Ferentz said. "His recruiting interest picked up a little more at the latter part of recruiting.
 
"We evaluated him and liked what we saw. We liked him as a young man and thought he had a chance to be a versatile player, either a safety or possibly a linebacker down the road."
 
As a junior at Romulus High School, Merriweather played Sam linebacker; he transitioned to safety as a senior at Belleville High School. It wasn't as if Merriweather was a newcomer to football in high school, he played through eighth grade, then wanted to focus on basketball.
 
"I missed the game of football," Merriweather said. "I took two years off to focus on basketball, but I wasn't enjoying it like that. I missed playing two sports."
 
As a senior, Merriweather helped Belleville to an 11-1 record by making 50 tackles with four tackles for loss and a sack.
 
In three games with the Hawkeyes, he has a solo tackle against Northern Illinois while he was playing in the secondary. Most of Merriweather's playing time has come on special teams and Ferentz expects that to continue.
 
"He has a lot of upside," Ferentz said. "When a guy is kind of new to a sport, they tend to improve quicker than someone who has been playing a long time. We thought with his athleticism and the fact he is a good teammate, he had a chance to grow into something pretty good.
 
"A guy with good size that can run is a positive addition to any football team. Right now it is starting to surface on special teams."
 
Merriweather has seen the most growth in his technique.
 
"I'm learning from guys like Hook (junior Amani Hooker), (senior) Jake (Gervase), and (junior) John Milani who have been in the program," he said. "Just picking up things from them and (volunteer defensive assistant) Miles Taylor, who played here (from 2014-17). Learning things from (Taylor) and going over film with those guys has helped me a lot."
 
Iowa is off to a 4-1 start to the season and Merriweather has contributed on special teams.
 
"It has been amazing, just getting on the field and playing college football," Merriweather said. "The atmosphere, fans, hearing everybody when I'm going down the field to make a play or running in the end zone; seeing everybody, being with my teammates. This is an amazing feeling I couldn't imagine not doing it."
 
The Hawkeyes are on the road Saturday to play Indiana (4-2) in Memorial Stadium in Bloomington, Indiana. Kickoff is set for 11:01 a.m. (CT) and the game will be televised on ESPN2.