Hawkeye Fan Shop — A Black & Gold Store | 24 Hawkeyes to Watch 2018-19 | Hawk Talk Monthly — October | Box Score (PDF) | Boxscore
PISCATAWAY, N.J. — Senior Taylor Louis led Iowa with 13 kills, sophomore Brie Orr added 32 assists, and the University of Iowa volleyball team kept its momentum with a sweep of the Rutgers Scarlet Knights on Wednesday night.
HEAR FROM COACH SHYMANSKY
"I thought we did pretty well offensively, but we have a lot of work to do in terms of our defense. But I liked the gritty win. It was hot in the gym and our team had to dig deep to keep battling. We separated in the second set and then let them back in it and then finally separated in the third set and didn't look back. Taylor Louis was unstoppable tonight and I thought Reghan Coyle did a great job as well. Hats off to Brie Orr for moving the ball around and finding good options. This was a great momentum win. Now we have to get ready for Purdue."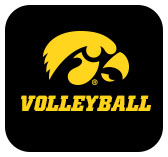 HOW IT HAPPENED
SET 1 (25-21) | Iowa opened the match by winning a challenge on a net violation on Rutgers to take the first point in one of the more unconventional approaches. Iowa opened an 11-7 lead off of two kills by junior Cali Hoye and a kill by senior Taylor Louis. Rutgers responded with three consecutive kills to cut Iowa's lead to within two. Iowa and Rutgers traded points, but Iowa never allowed a tie. After a Rutgers timeout leading 22-18, Iowa sealed the first set with a kill by Louis.
SET 2 (25-23) | For the second consecutive set there was a challenge on the first point, giving the Hawkeyes a 1-0 lead. The Hawkeyes and Scarlet Knights traded three point runs until Iowa forced a timeout, leading 10-6. Out of the timeout, Iowa took over, scoring eight of the next ten points. Down 18-9, Rutgers followed with a seven point run to bring the score to 18-17 until Louis took over. Louis scored the next three points and Hoye finished the set with a kill of her own.
SET 3 (25-15) | The Hawkeyes took control in the third set, starting on a 9-3 run after back-to-back kills by Louis. Iowa continued to stretch its lead to 19-10 before a kill and block by the Scarlet Knights starting turning momentum away from Iowa. Iowa responded with a three point run to end the set and match.
NOTABLES
·       Junior Cali Hoye tied her career-high with three service aces.
·       The Hawkeyes finished with a .398 attack percentage
UP NEXT
Iowa returns to Iowa City for a matchup against No. 17 Purdue on Saturday at 7 p.m. (CT). The match will serve as Girl Scout Night. Tickets for the match are available through hawkeyesports.com/tickets or over the phone at 800-IA-HAWKS.