24 Hawkeyes to Watch 2018-19 | Hawk Talk Monthly — October 2018 | VIDEO — Sunday Conversation | Single Game Football Tickets | I-Club Events Page
By DARREN MILLER
hawkeyesports.com
IOWA CITY, Iowa — Perhaps the biggest positive over the past two weeks for the University of Iowa football team has been the experience gained by a variety of different defensive players in a variety of different positions.
 
There is more good news, Iowa head coach Kirk Ferentz said Sunday during his weekly conversation with hawkeyesports.com.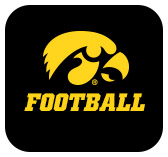 "I think we're going to get a couple of those guys back," he revealed, referring to two injured linebackers. "We have a good chance getting Nick Niemann back, we'll see on Jack Hockaday, but I think it's realistic to think he might play next week. He is certainly getting closer."
 
In the absence of Niemann and Hockaday, junior Kristian Welch gained experience at middle linebacker, sophomore Barrington Wade and freshman Djimon Colbert have gotten snaps at outside and weakside linebacker, junior Amani Hooker has seen time at outside linebacker, and sophomore Geno Stone has gotten in at strong safety.
 
"The message I have given our team is whenever we get everybody back healthy, the good news is, we should be a stronger team based on the experience some of these players are getting," Ferentz said. "We'll let the guys keep competing and see how things go."
 
After allowing a field goal on Indiana's first drive, the Hawkeyes answered by scoring the next two touchdowns. Iowa led 14-3 after the first quarter, 21-10 at halftime, and 35-10 early in the third quarter.
 
"One of our goals going on the road is to start fast to help quiet the crowd a little bit," Ferentz said. "We couldn't have done much better than what we asked them to do yesterday."
 
Junior quarterback Nate Stanley completed 21-of-33 passes for 320 yards and six touchdowns. The scoring strikes went to sophomore tight end T.J. Hockenson (two), junior tight end Noah Fant, senior wide receiver Nick Easley, senior fullback Austin Kelly, and sophomore running back Toren Young.
 
"The ball got spread around well," Ferentz said. "Nate is a more experienced player than a year ago, a much better player than he was a year ago. A lot of the players he is playing with, you can say the same thing."
 
A statistic that pleased Ferentz during the 42-16 win at Indiana was the differential in return yardage. The Hawkeyes, who lead the nation in kickoff return average, gained 136 yards on four kick returns. Indiana had 18 yards on one return.
 
"The last two weeks our special teams have impacted the game in terms of field position. It has been a great team effort," Ferentz said. "(Sophomore) Ihmir (Smith-Marsette) is doing a nice job back there as our kick return guy. The flipside is that when you know you have a guy back there that has a little knack, they seem to find a way to block a little harder because they know that opportunity is there."
 
Iowa enters Saturday's Homecoming game against Maryland with a record of 5-1 overall, 2-1 in the Big Ten. The Terrapins are 4-2, 2-1.
 
The game will present a different look for the Hawkeyes: Maryland averages 245.2 rushing yards per game and six years per carry.
 
"They have a different style of offense than we have seen the last couple weeks," Ferentz said. "They are more run-oriented, so that's going to be a big adjustment for us. Defensively, they look to be very, very active. It will be a week where our preparation is important; we have to match what we're trying to do against their schemes that we anticipate."
 
Kickoff from Kinnick Stadium is set for 11 a.m. (CT). The game will be televised by ESPN2.