Hawkeye Fan Shop — A Black & Gold Store | Hawk Talk Monthly — October 2018 | 24 Hawkeyes to Watch 2018-19 | Box Score (PDF) | Photo Gallery | Boxscore
IOWA CITY, Iowa — The University of Iowa volleyball team fell to No. 17 Purdue in five sets on Saturday night inside Carver-Hawkeye Arena.
Junior Cali Hoye led Iowa with 14 kills, sophomore Brie Orr had 44 assists and senior Molly Kelly notched 24 digs.
HEAR FROM COACH SHYMANSKY
"We have a lot of bright things that are happening inside our program. We have some nice balance. We are getting more kills out of our middles and I thought that Brie (Orr) was very offensive as a setter. There were a lot of digs out there – 86 digs. I thought we put good sweat equity into the match, but in the end you have to be tough. We did it last weekend against Wisconsin, but we didn't find the right rhythm tonight against Purdue."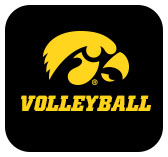 HOW IT HAPPENED
SET 1 (18-25) | Iowa and Purdue opened the match by trading points until a kill by freshman Amiya Jones and attack error by Purdue gave Iowa a two point lead. Iowa extended its lead to 10-7, but the Boilermakers bounced back to take the lead 10-11. Iowa continued to trail throughout the set. Iowa showed signs of life with kills by seniors Reghan Coyle and Taylor Louis to bring the score to 17-22, but Purdue held strong to finish the first.
SET 2 (25-20) | Purdue opened up the second set with two kills and three errors to gift the Hawkeyes an early lead. Sophomore Brie Orr followed with two kills and Purdue was forced to call its first timeout. Iowa continued to build a lead throughout the set, leading by as much as seven points. After a small run by the Boilermakers, a service error gave the Hawkeyes the set win heading into the intermission.
SET 3 (25-19) | Iowa fell behind early in the third set, but three straight kills by Coyle got the Hawkeyes back into it and tied the score at 13. Iowa reeled off another three-point run and battled back and forth with the Boilermakers until Purdue called a timeout down by three. Out of the timeout, freshman Hannah Clayton and Coyle's block kept momentum on Iowa's side. Iowa took the third set after an attack error by Purdue.
SET 4 (22-25) | Iowa fell behind in the fourth set early, giving up an ace and kill. The Hawkeyes tied the score at six after three consecutive kills by Hoye and a kill by Jones. Iowa continued to battle back from three point deficits and eventually tied the score back up at 16. But Purdue's offense could not be stopped and took another lead at 18-22. Iowa fought back again in the set with kills by Coyle and Jones to bring the score to 22-23, but Purdue closed the fourth set with a kill. For the second straight Saturday, Iowa went to a fifth set with a top-25 team.
SET 5 (10-15) | The Hawkeyes lost momentum in the fifth set and allowed Purdue to take a 1-5 lead before Iowa was forced to call a timeout. The Hawkeyes answered with a kill from Louis, but Purdue continued to respond to every Iowa point with a point of their own. Iowa brought the score to within one point at 8-9, but continued to give up ground and Purdue closed out the set and match.
NOTABLES
For the second straight match, junior Cali Hoye tied a career-high with three service aces.
Iowa set a season high with 86 digs against Purdue.
Saturday's attendance was 4,058 – the third largest crowd in program history.
UP NEXT
The Hawkeyes hit the road for a weekend road trip at Minnesota on Oct. 19 at 7 p.m. (CT) and then play at Wisconsin on Oct. 21 at 1 p.m.