Hawkeye Fan Shop — A Black & Gold Store | Hawk Talk Monthly — October 2018 | 24 Hawkeyes to Watch 2018-19
By ASHLYNN BAUER
hawkeyesports.com
IOWA CITY, Iowa — A University of Iowa women's gymnast is getting back to where she belongs — on the beam.
 
Clair Kaji qualified for 2017 NCAA Championships as a specialist on beam as a freshman, but Kaji's sophomore season didn't go anywhere near as planned.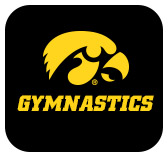 Kaji tore her Achilles tendon three meets into the 2018 season. Now a junior, Kaji is working her way back into the lineup.
 
"Her injury was so devastating," said Iowa head coach Larissa Libby. "Personally for her, for us as a staff and for the team. I am a big believer that everything happens for a reason."
 
Libby's philosophy couldn't be more true in this situation.
 
"After having that injury, training through it, and keeping herself so invested in the team, she is 10 times the person she was." Libby said, "She is a leader, she is more focused, disciplined, is happier, and it really showed who she is."
 
With the entire program behind her, Kaji couldn't have gone through the injury and rehabilitation without her teammates and coaches.
 
"They always kept me involved." Kaji said, "It is important that you stay involved with your team. An injury can't take you out mentally, even if it takes you out physically. You have to give more in other aspects."
 
Now that Kaji can return physically, getting back on the beam was just like one would expect.
 
"It was an incredible feeling, I relied a lot on muscle memory," Kaji said. "I was afraid to take time off, because when you tear your Achilles, you're out for the year. Getting back up (on the beam) and knowing that my body knows what to do, the feeling was incredible."
 
But that feeling did come with doubt.
 
"The first couple times were weird, I felt like I was off balance," she said. "I thought to myself 'Was it always this high?'" Kaji said. "That only lasted a week. I've been doing this my whole life, so I trusted my body and knew that I was able to do it."
 
There was never a doubt for Libby that Kaji would come back stronger.
"Her work ethic has been incredible," said Libby. "That is a tough injury and it messes with your head," Libby said. "She is in better shape than she ever was at any point. She is stronger and is more in tune with her body and what it is capable of."
 
Despite an injury that took her away from gymnastics, Kaji has embraced her new schedule in-and-out of the training room.
 
"I've made it a part of my routine, to come to training early and make sure that I am fully warmed up and able to do all what I can when practice starts," Kaji said.
 
Kaji knows when the season arrives she will be ready.
 
"Setbacks are nothing but a mindset," she said.