I-Club Events Page | Single Game Football Tickets | 24 Hawkeyes to Watch 2018-19 | Hawk Talk Monthly — October
By HANNAH OSSMAN
hawkeyesports.com
IOWA CITY, Iowa — University of Iowa offensive line coach Tim Polasek's career has taken a few turns since his playing days as the starting quarterback for Concordia University.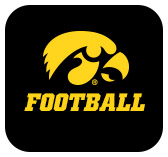 Post college, Polasek has worked toward learning the entire game by coaching running backs, tight ends, fullbacks, and acting as the offensive coordinator at various points in his 11 years at North Dakota State. Prior to NDSU, he coached defensive backs, wide receivers, tight ends, and quarterbacks at the University of Wisconsin-Stevens Point.
 
Fast forward to 2018 and Polasek is in his second year coaching the offensive line at the University of Iowa.
 
"It's about having a great passion for football," Polasek said. "As I look back on my career, the people I've been around, the mentorship that I've had throughout my career, and my 15 years has allowed me to learn as much as possible. You should never settle on one spot, you want to learn the whole game as much as possible, both offense and defense, and then be able to apply the techniques and fundamentals it takes to be successful."
 
Polasek's offensive line role is a first, but he is settling well into the position in year two. He looks to the coaching staff around him, specifically head coach Kirk Ferentz, who coached the offensive line from 1981-89.
 
"Every day, you have to be a sponge," Polasek said. "You'd be foolish not to. Being in there every day with (coach Kirk Ferentz), being able to review the film from practice or from a game, his insight and being able to anticipate things out of certain looks is just something that I will cherish forever. He's an unbelievable person. He's a great teacher. People don't understand. Some head coaches are just figure heads. This guy is out here working, coaching, and is involved so much. I'm so grateful for the opportunity to be at Iowa."
 
The offensive line has seen success under Polasek. In 2017, the Hawkeyes upset Ohio State, 55-24, allowing only one sack from the Buckeyes. They earned a win in the postseason over Boston College, 27-20, in the Pinstripe Bowl, and finished the season 8-5.
 
In 2018, the Hawkeyes have won five of their first six games, allowing only six sacks on the season, fewest in the Big Ten. Polasek credits the entire offensive staff for the success this season.
 
"The relationship with the whole offensive staff is amazing," Polasek said. "We were just starting out last year, and for us to be in there now, we're so much more efficient. We're on the same page. Every week we can bring each other some thoughts, whether it's the run game or protection-wise, we work through it together. My hat goes off to Brian (Ferentz) and his leadership with the offensive staff and all the guys contributing. I just hope to be able to give something every week that can help the kids attain success because that's really what we're here for."
 
The Hawkeyes' offense has put up 2,471 total yards (1,537 receiving and 934 rushing) with the offensive line paving the way for the big plays. Developed players are the backbone to any successful team and Polasek is thankful for the leadership that three senior linemen offer.
 
"You have to look at where the maturity stems from," Polasek said. "It's Keegan Render, Ross Reynolds, and Dalton Ferguson. Those guys have been in the program a long time, and when you're in a program like Iowa for five years, I think you grow as a man. They're rubbing off on the other guys in our room. We have 20 guys in there getting better through their leadership and their example. Every day that we come on the grass and are together, we hope we are maturing and moving forward. What we're doing here is about teaching, and it's a race to maturity. Who can get the young guys in the program to be experienced fastest?"
 
Render, Reynolds, and Ferguson have helped develop sophomores Tristan Wirfs and Alaric Jackson, who round out the five starting line positions.   
 
"What's amazing to me, being in my second year of coaching offensive line and dealing with Tristan being a true second-year player, is how did he even go out there and function last year? He had a few mistakes, but what a terrific football player. I've seen (Wirfs and Jackson) grow conceptually across the board. Last year, I don't think (Wirfs) had any clue. He was just working through our system. Now, he's processing 'How do I get the job done?' more than just the what."
 
The Hawkeyes return home on Saturday for a Homecoming game against Maryland inside Kinnick Stadium. Kickoff is 11:01 a.m. (CT), and the game will be televised on ESPN2.