Hawkeye Fan Shop — A Black & Gold Store | Hawk Talk Monthly — October 2018 | 24 Hawkeyes to Watch | Fight For Iowa
Michael Tenney is a junior on the University of Iowa men's swimming and diving team. He currently sits in the top 10 in the Iowa record books in the 200 fly and 400 IM.
What goals does the team hope to accomplish this year?
"As a team we want to place better at Big Tens. We're set to do that this year."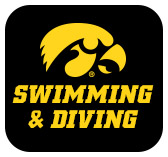 How has the team transitioned from last year to this year?
"We're getting new leadership after we lost a great senior class last year. This year's captains should do a good job of leading the team where it wants to go."
What has been your favorite memory surrounding the team so far?
"Relays at Big Tens are exciting"
What is your best advice for this year's freshmen?
"Focus on swimming and school equally. School will be with you the rest of your life, swimming is only a small portion of who you are so don't let it affect too much of your life."
What is the best advice you have been given by a coach?
"If you want to swim fast, go fast."
What made you choose Iowa?
"After living in California, I wanted to see what other parts of the country were like and see whether or not its where I want to be. That's what made my decision."
If not swimming, what other sport would you enjoy doing the most?
"I like soccer, that would be interesting."
Do you have a meet or race ritual?
"When I get up to the block, I step on the little stool to make myself feel taller."
What is your favorite place to be on campus?
"The Seamans Center, it's like my third home."
Favorite meal?
"Spaghetti with meat sauce."
Who is your favorite person on the team to be around and why?
"Sam Dumford because he's really funny."
Favorite movie?
"Hacksaw Ridge"
Favorite book?
"The Theory of Black Holes"