24 Hawkeyes to Watch 2018-19 | Hawk Talk Monthly — October 2018 | Single Game Football Tickets | I-Club Events Page
By DARREN MILLER
hawkeyesports.com
IOWA CITY, Iowa — Truth be told, University of Iowa head football coach Kirk Ferentz probably has more than 100 favorites on his 2018 football team. On Tuesday, he singled out one.
 
Not much was seen of running back Toren Young last season, primarily because he was a redshirt freshman performing in the shadows of seniors Akrum Wadley and James Butler. All the while, Young was a willing recipient of a proverbial torch being passed down from his elders in the running back room.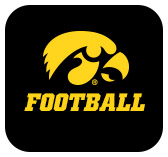 That torch continues to shine.
 
"Toren is a favorite of mine because he works so hard," Ferentz said at his weekly news conference in the Stew and LeNore Hansen Football Performance Center. "He's a guy when he's on the field, he energizes your team. You don't appreciate the full value of what (he does) for our football team."
 
Young, a 5-foot-11, 221-pound sophomore from Madison, Wisconsin, leads all Iowa ground gainers through six games with 382 yards on 73 attempts. His 5.2 yards per attempt is tops on the team for a running back. But statistics don't define Young, Iowa's win total does. So far, the nationally ranked Hawkeyes are 5-1 overall, 2-1 in the Big Ten Conference.
 
"We're most concerned about getting the win every week," Young said. "We don't talk too much or care too much about statistics. We want to do our job, meet our goals, and do what we can do to help the offense and team."
 
Young must be doing something right. He is among a batch of underclassmen who are stepping up on a team where senior leadership is strong. Young is the lone sophomore on the team's 12-memebr Leadership Group.  
 
"We have a small senior class in terms of numbers, 13, but every one of those guys is doing a great job of leading, buying in, leading by example, and encouraging other guys," Ferentz said. "We have another group of guys in the sophomore-junior class who are acting like seniors, they are doing a great job. You think about (junior defensive end) Anthony Nelson, (sophomore tight end) T.J. Hockenson, (junior quarterback) Nate Stanley, (junior strong safety) Amani Hooker, Toren Young."
 
Young arrived at Iowa for the 2016 season, but redshirted while Wadley (1,081) and LeShun Daniels, Jr., (1,058) combined for 2,139 yards and 20 touchdowns. Last season, he rushed for 193 yards on 45 carries with touchdowns against Ohio State and Nebraska. He picked up 78 yards against North Texas and had a 34-yard run against Ohio State.
 
As a sophomore, Young has started against Iowa State, Northern Iowa, and Indiana. On Oct. 13 against the Hoosiers, he reset his career-high single-game rushing total with 96 yards on 19 carries. He also caught an 11-yard touchdown pass, giving him two receptions for the season and three for his career.
 
"I try to go out and do my job, work hard every day in practice, and lead by example more so than anything," Young said. "Sometimes just watching someone at practice and seeing someone go hard kind of rubs off on people. That's the approach I take — go hard in practice and be someone people can look up to." 
 
On top of the seniority hierarchy among Hawkeye running backs are Young and fellow sophomores Ivory Kelly-Martin and Mekhi Sargent.
 
"Just because there isn't a senior in the room doesn't mean I can't lead," Young said. "My first couple years I had an opportunity to learn from a good group of older guys. Now that I'm the oldest guy in the room, I'm confident with what they have shown and taught me."
 
The Hawkeyes return home on Saturday for a Homecoming game against Maryland inside Kinnick Stadium. Kickoff is 11:01 a.m. (CT) and the game will be televised on ESPN2.