24 Hawkeyes to Watch 2018-19 | Hawk Talk Monthly — October 2018 | I-Club Events Page | Single Game Football Tickets
By RICK BROWN
hawkeyesports.com
IOWA CITY, Iowa — Parker Hesse was a sophomore at Waukon (Iowa) High School when his football team got shut out by West Delaware.
 
"It was the third or fourth game of the season," Hesse said. "That was a pretty bad feeling."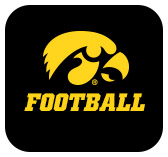 Saturday felt a whole lot better for the University of Iowa senior captain and defensive end.
 
Hesse helped silence a potent Maryland running game with a sack and two tackles for a loss in the No. 19 Hawkeyes' 23-0 victory before a sellout crowd at Kinnick Stadium. It was Iowa's first shutout since the 2016 season at Illinois.
 
Hesse has been a starter for four seasons. He was thrown into the fire when Drew Ott was injured in the second game of the 2015 season at Iowa State. Ott returned, but was lost for the season with a knee injury in the sixth game against Illinois. Hesse was next man in and he has never left.
 
"I can't say enough about Parker," said Iowa head coach Kirk Ferentz. "First of all he has played a lot. He had to play probably before his time with Drew getting injured. That seems like a decade ago, but everything he does is quality and first class."
 
Hesse played in his 46th game Saturday, and made his 41st start. That consistency of effort hasn't been missed by his coach.
 
"He's a student of the game," Ferentz said. "He works hard on the mental part and he is an unbelievable leader in the strength and conditioning program. He's a guy that everybody in our program looks up to, whether it's a player , the coaching staff, or support staff.
 
"It's hard to find a flaw with him. He's kind of the epicenter of our football team."
 
Senior free safety Jake Gervase marvels at what Hesse has done for the Hawkeye program.
 
"There's a reason he's a four-year starter and team captain," Gervase said. "He brings it day-in and day-out during the week in practice. We know he's going to do his job. It's fun to see him have success on the field."
 
Maryland came into Saturday's Homecoming game averaging 245 rushing yards a game. The Terrapins had 19 runs of 20 yards or more, third best nationally.
 
Iowa had allowed an average of 81.5 yards per game, with just one run of 20-plus yards.
 
Something had to give. Hesse and his teammates got the upper hand. The Terrapins rushed for just 68 yards on 23 attempts. Maryland's leading rusher, Javon Leake, had 16 yards on one carry in the game's final drive.
 
"They give a lot of different looks, a lot of pre-snap stuff," Hesse said. "It comes down to what we did this week in practice, and what our coaches did in having us prepared, getting us in the right situations. The scout team did a tremendous job giving us accurate looks, like the stuff we saw (Saturday)."
 
Hesse put his name on this game with two signature plays. On Maryland's second possession of the game, Hesse wrapped up running back Anthony McFarland for a 4-yard loss.
 
Late in the third quarter, Hesse split Maryland guard Sean Christie and center Brendan Moore and sacked quarterback Kasim Hill for a 7-yard loss.
 
"That was a game we had, trying to recognize the protection they were in and taking advantage of it," Hesse said.
 
Iowa's defense has had its share of injuries on that side of the ball this season. The "Next Man In" mentality has come into play many times, like it did for Hesse in 2015.
 
Hesse said that the defensive coaches have everyone focused on the job at hand.
 
"It doesn't matter if it's young guys coming in or people stepping into new positions," Hesse said. "Everyone is focused and confident in the man next to them. That allows everyone else to play a little looser. It's just something we're trying to keep building on.