24 Hawkeyes to Watch 2018-19 | Hawk Talk Monthly — October 2018 | I-Club Events Page | Single Game Football Tickets | Game Recap | Parker Hesse Postgame Feature
By DARREN MILLER
hawkeyesports.com
IOWA CITY, Iowa — Like all defensive players, University of Iowa senior safety Jake Gervase wants to be on the football field making plays.
 
The making plays part happened Saturday during an overpowering 23-0 victory against Maryland inside Kinnick Stadium. Not so much for being on the field for an extended period. Iowa's defense played just 39 snaps against the Terrapins, but that had a lot to do with the proficiency of a Hawkeye offense that maintained possession for 40 minutes, 55 seconds.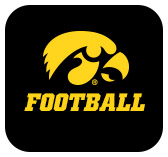 There are plenty of reasons the Hawkeyes entered their Homecoming game ranked fifth in the nation in total defense, allowing 282 yards per game. They surrendered just 115 yards Saturday, the best/stingiest effort in Big Ten Conference play since head coach Kirk Ferentz took over in 1999.
 
That spans 158 games.  
 
One way to hold opponents in check is by playing complementary football, aka, Iowa's offense keeping Iowa's defense off the field. With 30 mile-per-hour winds gusting out of the northwest, it was crucial to pick up first downs. The Hawkeyes did that 22 times to Maryland's seven.
 
"If you had a wish list, which we all do, that's what you want to do is try to control it," Ferentz said. "We did a good job of that, certainly in the first half. A lot of things were beneficial to the victory."
 
By halftime, with Iowa on top 13-0 and the outcome still in the balance, Maryland had 46 yards on 16 plays and held the ball 7 minutes, 11 seconds. Meanwhile, Iowa scored three times in the first two quarters on drives of 17 plays, 72 yards, 9:04 time of possession; 11-40-5:00; and 10-58-4:09.
 
The first 30 minutes for Iowa resulted in 44 plays for 205 yards and 22 minutes, 49 seconds where the defense didn't need to worry about defending its Kinnick Stadium turf.
 
"The offense did a great job of kind of running out the clock in the first half, credit goes to them," Gervase said. "When we were on the field as a defense, we tried to get three-and-outs, get off the field, and give the ball back to our offense."
 
Iowa forced four three-and-outs. Of Maryland's 10 possessions, seven were four plays or less. Meanwhile, the Hawkeyes put together drives of 17, 14, 11, 10, 10, and eight plays.
 
"If you look at the numbers for us defensively, it totally comes down to our offense controlling the clock, moving the ball, and putting up points," said Iowa defensive lineman Parker Hesse, who had a sack and two tackles for loss. "That is where their (lack of yards) and the zero (points) came from. We did what was asked of us defensively, but our offense controlled the game."
 
Iowa's defense also outscored the Terrapins, 6-0. With 3:31 left in the third quarter, Maryland wide receiver Brian Cobbs collided with quarterback Tyrrell Pigrome on pre-snap motion. The ball squirted 10 yards away from Pigrome into his own end zone, where Hawkeye junior defensive end Anthony Nelson recovered for his first career touchdown.
 
When you add the complement of a special teams punting game that forced Maryland to begin drives on its own 10 and 6, you have a pretty solid all-around effort.
 
As for the shutout, it is the 10th in the Ferentz era and the first since a 28-0 win at Illinois in 2016.
 
"It is big time, we're excited about it," said Gervase, who led the Hawkeyes with six tackles. "We came out with a great game plan, we held a team that averages (245.2) yards on the ground to (68). It was a big game from us." 
 
In the first half, Iowa converted 5 of 9 times on third down and was 2 of 2 on fourth down. That deflated the Terrapins, mentally and physically.
 
"You play (76) plays, it is going to wear on you, no matter how well-conditioned you are," said Maryland senior Tre Watson, who had a game-high 15 tackles with an interception. "Those plays wear on. It is disappointing you can't get off the field."
 
When the wind dies down after Saturday games across the country, Iowa's defense will remain ruffling among the best in the land. After seven games (and six wins), the Hawkeyes allow a meager 258.1 yards per game.
 
This time, their offense deserves an assist.