Hawkeye Fan Shop — A Black & Gold Store | 24 Hawkeyes to Watch 2018-19 | Hawk Talk Monthly — October 2018 | Match Notes (PDF)
SERVE IT UP
The University of Iowa volleyball team hosts Northwestern on Wednesday at 8 p.m. (CT) and then travels to College Park, Maryland, for a game against the Terrapins on Sunday at 1 p.m. 
FOLLOW ALONG
Live stats for each contest can be found on the Iowa volleyball schedule page at hawkeyesports.com/vblive. 
Wednesday's match will air live on the Big Ten Network.
Live audio of Sunday's matchup will be available on Hawkeye All-Acess with Tim Keating on the call.
A live stream of Sunday's match is available on BTN2Go (subscription required).
PROMOTIONS
The Hawkeyes will host a Halloween costume contest during Wednesday's match. 
Wednesday's match will also serve as Elementary school night.
ORR BREAKS 2,000 ASSISTS
Sophomore setter Brie Orr became the ninth player in program history to eclipse 2,000 assists with her 19th assist in the third set on Oct. 21 against No. 9 Wisconsin.
Overall, Orr's 2,005 assists are ninth in program history and her 807 assists are fourth in the Big Ten this season.
FOLLOW THE HAWKEYES
For an inside look at the Iowa Volleyball program and access to exclusive coverage, "like" University of Iowa Volleyball on Facebook and follow @iowaVolleyball on Twitter and Instagram.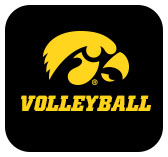 DIGGING IN
Senior Molly Kelly ranks among the best Liberos in the conference.
Overall, Kelly's 400 digs rank first in the conference.
Kelly ranks second in the Big Ten with 5.00 digs per set.
Kelly's 5.00 digs per set are the highest in program history since the 25-point scoring format was implemented in 2008.
Her 29 digs against No. 18 Michigan on Sept. 23 set a new career high.
Kelly is eight digs from tying for 20th on Iowa's all-time career digs list (914).
ORR SETTING UP TO BE THE BEST
Sophomore Brie Orr leads Iowa with 807 assists through 21 matches and averages 10.09 assists per set, which is seventh in the Big Ten.
Orr returns to Iowa as the team's premier setter after recording 1,201 assists in 2017 – the second most assists in single-season program history since the 25-point scoring format was implemented in 2008.
Orr ranks ninth all-time in career assists (2,005), trailing Jitka Stehnova (2,159) for eighth all-time.
FOLLOW THE LEADER
Senior Taylor Louis continues to pace the country in active career kills. Louis' 1,846 career kills leads the NCAA by 145 (Carlisa May, Arkansas State) and is 157 kills ahead of the country's third leading player (Jaali Winters; Creighton). 
Louis is tied for third in the Big Ten with 312 kills and is fifth with 3.95 kills per set.
In her career, Louis has 1,846 total kills with 698 kills coming in a Hawkeye uniform.
GOING THE DISTANCE
In 2018, Iowa has played five matches that have lasted five sets, going 3-2 with wins over Northwestern, Wisconsin, and Syracuse and dropping 3-2 losses to Lipscomb and Purdue.
The Hawkeyes have played in a fifth set in three of their last five games.
In Iowa's three five-set wins, the team has been the first to score eight points and surrendered the first eight points in both losses.
Iowa's 74 total sets played are the second most in the Big Ten this year.
HAWKEYE HISTORY
The Hawkeyes' 25-23 second-set victory over the third-ranked Huskers on Oct. 3 marked the first time since 1987 that Iowa has taken a set from Nebraska.
BLOCKING OUT THE HATERS
In conference play, Iowa has stepped up its defensive efforts at the net.
As a team, the Hawkeyes rank seventh in the Big Ten in blocks per set with 2.37 against conference opponents.
Iowa is tied for fith in the Big Ten in solo blocks and is seventh in total blocks with 41 and 298, respectively.
IT'S STILL A HAWKEYE STATE
The Hawkeyes broke a 21-year old road drought Sept. 14, defeating Iowa State in four sets (25-20, 25-21, 23-25, 25-20) at the Cyclone Classic in Ames, Iowa.
It is the first time Iowa has won in Ames since Sept. 13, 1997.
HAWKEYES TAKE DOWN NO. 6 WISCONSIN
The Hawkeyes defeated No. 6 Wisconsin in five sets on Oct. 6 for the team's first win over a ranked opponent this season. 
It is Iowa's first win over Wisconsin since Nov. 11, 2009.
Junior Cali Hoye led Iowa with a career-high 30 kills and sophomore Brie Orr tied a career-high with 59 assists.
THESE HAWKEYES ARE HANDY WITH BROOMS
The Hawkeyes are 6-3 this season in games that have gone three sets.
Iowa has swept Belmont, South Dakota State, Drake, Eastern Illinois, Michigan State, and Rutgers.
Iowa recorded two sweeps at the Drake Invitational on Sept. 8, defeating South Dakota State and Drake before sweeping Eastern Illinois in its home opener on Sept. 9. The last time Iowa swept three different teams in the span of two days was Sept. 19-20, 2008 (Portland, DePaul, Tulsa).
SCOUTING NORTHWESTERN
Northwestern enters Wednesday's match 13th in the conference with a record of 11-11 and 1-9 in Big Ten play.
Iowa defeated Northwestern in five sets in the team's first meeting of the season on Sept. 30.
Nia Robinson racked up 25 kills in Northwestern's loss to Iowa.
Robinson ranks fourth in the Big Ten with 3.97 kills per set.
SCOUTING MARYLAND
Maryland enters the weekend with a 13-9 record and 4-6 record in conference play.
Maryland ranks fourth in the Big Ten with 14.93 digs per set.
Erika Pritchard is tied for first in the Big Ten with 4.21 kills per set.
Iowa leads the all-time series 4-3 since both teams first met in 2014.
SHYMANSKY MILESTONE WATCH
Head coach Bond Shymansky's 75 wins at Iowa is third in program history. He passed former head coach Sharon Dingman earlier this season (66).
Shymansky passed Rita Buck-Crockett for third on Iowa's all-time Big Ten wins list with his 26th victory over Northwestern on Sept. 30.
Shymansky trails Linda Shoenstedt for second in Iowa history with 85 wins and trails Sandy Stewart's 136 wins for most in program history.
FACING THE BEST
Iowa faces eight teams currently ranked in the American Volleyball Coaches Association (AVCA) week 9 poll – Minnesota (3), Penn State (4), Illinois (6), Wisconsin (7), Nebraska (9), Michigan (12), Purdue (17), Washington (21).
The Hawkeyes' schedule features 11 teams that reached the 2017 NCAA Tournament.
The nonconference schedule included three teams that competed at the 2017 NCAA Tournament, including Iowa State, Colorado, and Washington.
Iowa will play all eight Big Ten NCAA Tournament teams from a year ago.  Those teams combined to go 206-64 in 2017.
TRUE MENTAL TOUGHNESS
The Hawkeyes continue their True Mental Toughness mantra in 2018. Bond Shymansky's squad defines true mental toughness as having a great attitude, treating others really, really well, being unconditionally grateful regardless of your circumstances, and giving your very, very best. 
THE PREMIER CONFERENCE
The Big Ten Conference has had an NCAA champion in nine of the last 14 years. 
Eight teams – Penn State, Michigan, Nebraska, Illinois, Wisconsin, Minnesota, Purdue, and Michigan State – appeared in the 2017 NCAA Tournament. 
BIG TEN NETWORK
Iowa will play on the Big Ten Network for a third time this season. Iowa's match against Nebraska on Nov. 7 will now air live on the Big Ten Network. Iowa.
SEASON TICKETS ON SALE
Season tickets and general admission tickets for Iowa's home matches are on sale at the UI athletics ticket office and online at hawkeyesports.com/tickets. Season tickets for reserved seating is $45 and general admission season tickets are $30.