Hawkeye Fan Shop — A Black & Gold Store | 24 Hawkeyes to Watch 2018-19 | Hawk Talk Monthly — October 2018 | Box Score (PDF) | Boxscore
IOWA CITY, Iowa — Another career day from junior Cali Hoye wasn't enough as the University of Iowa volleyball team fell to Northwestern, 3-2, inside Carver-Hawkeye Arena on Wednesday night.
Hoye tied a career-high with 30 kills, sophomore Brie Orr had 56 assists and senior Molly Kelly tallied 24 digs.
HEAR FROM THE PLAYERS
"It was kind of a rollercoaster out there," senior Reghan Coyle said. "Set-by-set our intensity was up and down. We need to work on keeping things more consistent."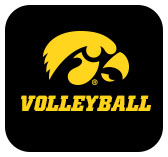 "We have nine games left in the season and every single one is absolutely huge," senior Molly Kelly said. "Every single match you have to battle, so we are moving forward."
"Our outside hitters did a good job with connecting with Brie (Orr) and so their middles were unsure were where to go and that helped open up the middle for me," Coyle said. "Brie's sets were awesome tonight, so I am excited for all of our options next match."
HOW IT HAPPENED
SET 1 (15-25) |The first set opened with senior Reghan Coyle scoring Iowa's first three points off assists from sophomore Brie Orr. However, Iowa fell behind 4-12 before rallying behind kills from Coyle and junior Cali Hoye to bring the score to 10-13. Northwestern opened up another run to take a commanding 14-21 lead. But as Iowa worked on a comeback, the Wildcats scored the decisive final points and took the first set.
SET 2 (32-30) | The second set began with Iowa working to take momentum back from the Wildcats, but Iowa fell to an early 6-10 deficit before the offense showed signs of life. Iowa continued to battle back in the second set until Hoye and Coyle led an Iowa attack to tie the score at 20 and give Iowa its first lead at 21-20. However, the second set was decided after the 25th point was scored. Both teams traded points until Orr and freshman Amiya Jones' crucial block gave Iowa its fourth match point and Hoye cashed in with a kill down the middle of the Wildcat defense.
SET 3 (18-25) | Iowa started the third set to a similar tune, falling behind 4-12. The Hawkeyes called a timeout down 11-20 to restart the offense and it worked. Thanks to kills by Jones, Louis, and freshman Hannah Clayton, Iowa brought the score to 18-22, forcing two Northwestern timeouts in the process. However, Northwestern regained momentum and closed the set with three consecutive kills.
SET 4 (25-17) | For the first time in the match the Hawkeyes started off strong in the fourth set, opening up its largest lead of the night at 12-7. Iowa continued to build a lead with Hoye and Coyle trading points. Northwestern's late run in the set brought the team within two points for a moment at 19-17, but a challenge by Iowa gave the team more breathing room as the Hawkeyes closed the fourth set with ease. Iowa headed to its sixth five-set match of the season.
SET 5 (8-15) | Iowa opened up a 3-1 lead in the fifth and final set, but it didn't last as Northwestern battled back to tie the pivotal set at 5. Iowa surrendered a 6-1 run and fell behind 6-11 and Northwestern closed out the match with a fifth set victory.
ATTA HOYE
·       Junior Cali Hoye's 13 kills in the second set are the most kills by a Hawkeye in a single set this season.
·       Hoye recorded her second 30-kill match of the season – the only player in the Big Ten to do so.
·       Hoye's 30-kill performance ties her for seventh in program history for kills in a single match.
UP NEXT
The Hawkeyes travel to College Park, Maryland, for a matchup against the Terrapins on Sunday at 1 p.m. (CT). Live results of Sunday's match are available on hawkeyesports.com/vblive.